The Victrola Navigator 8-in1 Record Player in review – loaded with goodies, is it everything it's cracked up to be? Find out in our awesome expert review!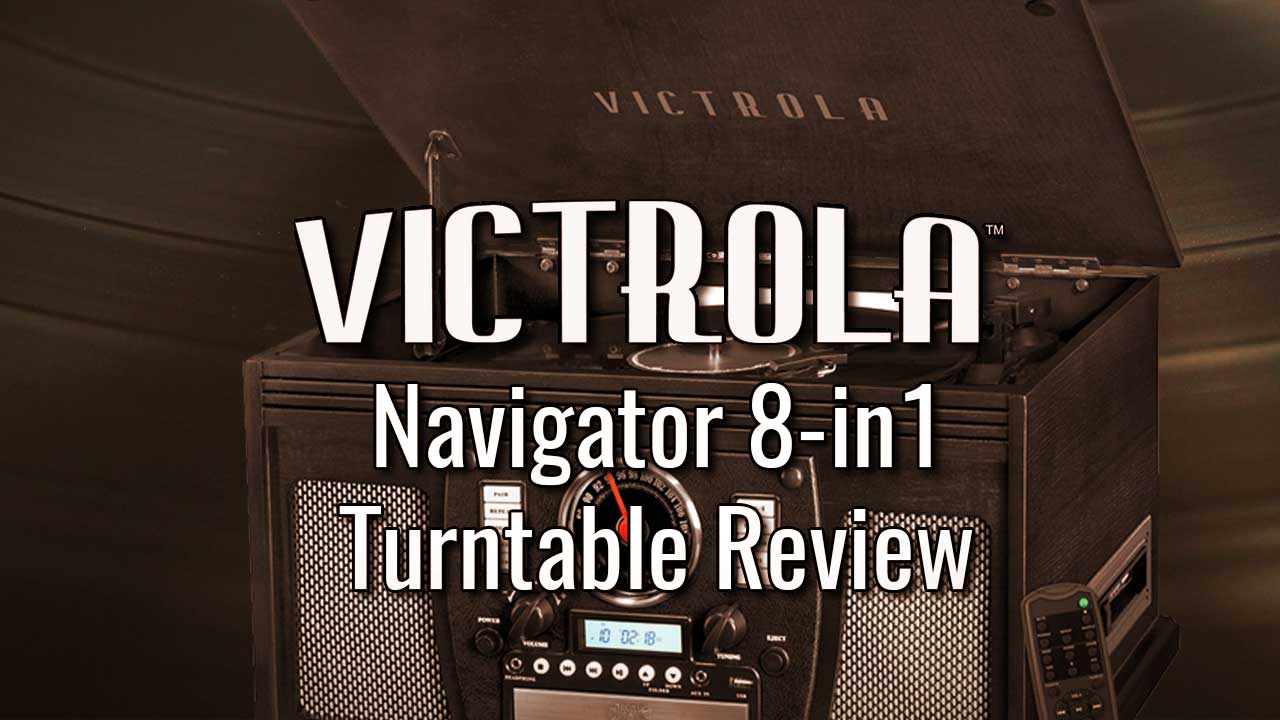 We certainly hope you benefit from the information we provide in this article! Just so you know, we may receive compensation if you use the links on this page. If you do, thank you so much!
Victrola Navigator 8-in-1 Bluetooth Record Player Review



Victrola Navigator 8-in-1 Classic Bluetooth Record Player with USB

Victrola Navigator Ratings At A Glance:
EASE OF USE

4.4/ 5

Plenty of options and can be easily used as simple record player

BUILD QUALITY

4.3/ 5

Well built, variety of colors but lacks external speaker jack

SOUND QUALITY

4.2 / 5

Solid sound quality and power for the average listener

VALUE FOR MONEY

4.4 / 5

So many features packed in at a budget friendly price

Victrola's Navigator Combines Vintage and Modern Technology In One Package
When it comes to record players, one of the newest trends is mixing vintage and modern features together. Even better,  you can get all these useful features at a super affordable price.
Victrola's Navigator 8-in-1 Bluetooth record player is just what it sounds like, 8 listening options in one package. As one of the better multifunctional entertainment centers, it even features a CD and cassette player for those who think just records aren't hipster enough.



Highlights include built in speakers, meaning no external audio system is needed. A wide variety of controls and buttons greet you on the front panel, but don't be intimidated. At its core, the Victrola Navigator record player is pretty user friendly.

What Is The Victrola Navigator Multimedia Center Meant To Do?
The Victrola Navigator 8-in-1 system is so much more than just a record player. True, it will feel right at home in the hands of a record junkie, but it is so much more too.
Victrola's Navigator is really a one stop shop for audio junkies. Packing 8 sound options into 1 compact record player, it is the all in one solution for audiophiles.
Instead of filling a whole room with stereo systems, record players, and modern bluetooth speakers, the Navigator can do it all.



Who Is The Victrola Navigator Record Player Made For?
Thanks to its all-in-one construction and purpose, the Navigator is incredibly versatile. It is built for anyone who wants or requires a wide variety of listening options.
If you want to grow and listen to your CD or record collection, but still have a party-ready speaker with Aux cord, this is the record player for you.
Perfect for bed rooms, dorm rooms, or even large living room setups, the Navigator is great for the do-it-all listener.

Victrola Navigator Unboxing
Because the Victrola Navigator 8-in-1 multimedia center is a one stop solution, it doesn't need many accessories. Likewise, it doesn't come with much besides a handy remote, USB connection cable, and computer software.


Aside from these features, there's no need for much else. Because it doesn't have an auxiliary out port, it can't be connected to external speakers.
This may limit just how loud it gets, but it also means the Navigator 8-in-1 doesn't require additional purchases or accessories.

Prominent Navigator Features
As the name implies, this is a feature packed record player. This Navigator Record player from the Victrola company has the ability to play records, CDs, cassette tapes, AM/FM radio, and has bluetooth and aux connections for modern computers and cell phones.



Furthermore, you can even record vinyl records to MP3 when you connect the included USB cable. Simply use the software that comes included, and you can make sure your record collection has a digital backup for mobile listening.
For those who don't have a streaming subscription, this is a great way to expand your digital music archive without online purchases.
CD and cassette playability
3 speed belt-driven turntable
Auxiliary input
Bluetooth connectability
Vinyl to MP3 conversion software
AM/FM Radio

How To Get The Most Out Of Your Victrola Navigator
As we've said before, you can get the most out of the Navigator if you use it as your all-in-one entertainment system. You can get all your favorite music from almost every recorded music medium possible.
If you don't have much in the way of a stereo system, this is an excellent place to start. Furthermore, if you're looking to simplify your setup, this is a great way to clear space without giving up sonic options.

Victrola Navigator Media Center Pros & Cons


Victrola Navigator Bluetooth Turntable
Review


What We Like
CD/cassette enabled
Modern connection via aux, bluetooth
3 speed record player
Affordable & versatile
Vinyl to MP3 enabled

What We Don't Like
No Aux out for external speaker
Complicated front panel controls
Headphone jack cuts sound quality



Comparison Shopping
If the 8-in-1 Victrola Navigator is a bit over the top for you, consider a stripped down option. The Victrola Nostalgic Classic Wood is a 6-in-1 record player that packs many of the same features as the Navigator.
If you want a more streamlined user interface without the vinyl to MP3 connection, the Victrola Nostalgic 6-in-1 record player may be a better option for you.
Even more affordable and streamlined, check out Victrola's 50's Retro Bluetooth Record Player. It has all the bluetooth and aux capabilities of the Navigator, but it in a sleeker, 50's inspired package.
It still packs the AM/FM radio and CD player capacity, as well as the 3 speed turntable. You lose out on a few features like the cassette deck and in depth controls, but you do save a few bucks.
Are you shopping for a bare bones sound system? Well you should probably redirect and check out Victrola's 6-in-1 Bluetooth record player.
'Featuring a stripped down, super simple front panel, you still get CD, cassette, bluetooth, and record playing abilities. Truly retro looks make this a smaller and stylish alternative to the more impressive looking Navigator.
If you're not sure about Victrola, you may be interested in our in-depth article comparing Victrola and Crosley.


Final Thoughts On The Victrola Navigator
It's hard to find much that the Victrola Navigator 8-in-1 can't do for you. It is really a one stop shop for audio and listening experiences.
Especially if you have a diverse music collection that isn't just vinyl and digital. If CDs and cassettes are still your style, this is an excellent way to blend your collections into one ultra usable device that will serve your personal listening needs.
With some issues like poor headphone jack sound quality and no auxiliary out port, it certainly isn't perfect. But for the money, the Victrola Navigator 8-in-1 bluetooth record player may be one of the most useful options on the market.



Check Victrola Navigator Record Player Availability! >>

Ease of Use

Build Quality

Sound Quality

Value Factor