The Jensen JTA-230 Turntable is certainly not going to break the bank, but does it perform? and is it worth your attention? Find out in our expert review!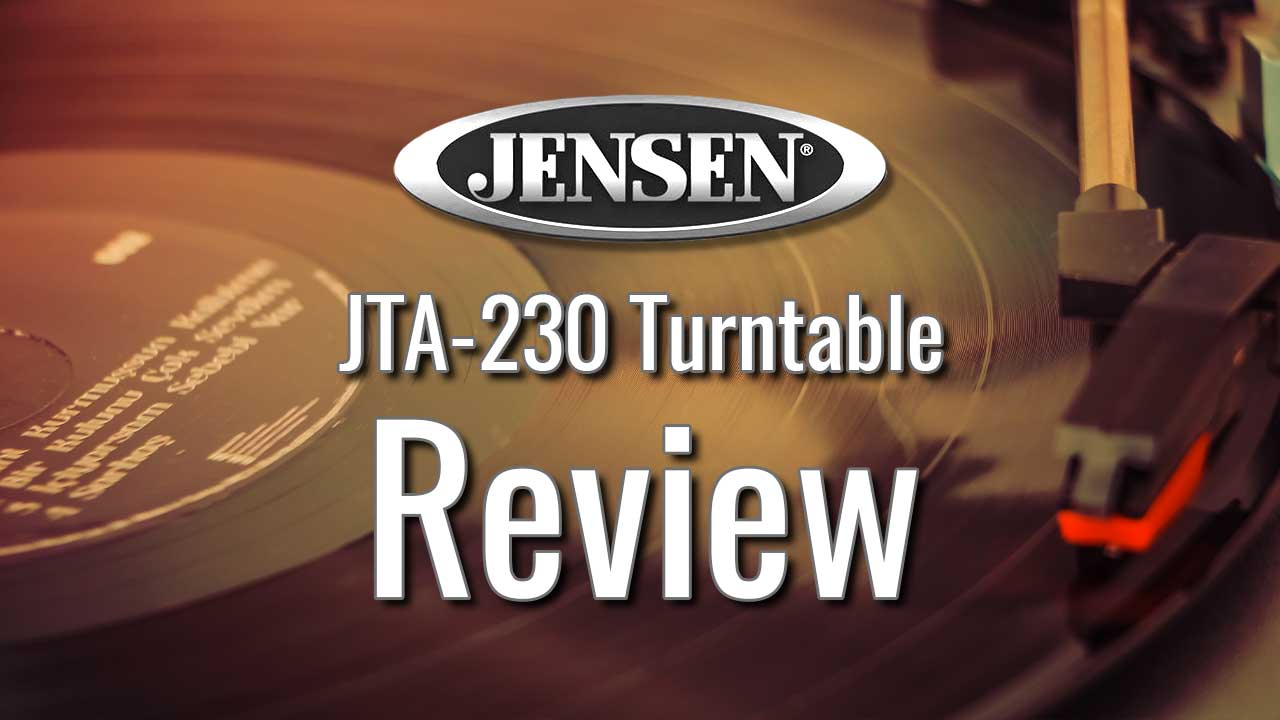 We certainly hope you benefit from the information we provide in this article! Just so you know, we may receive compensation if you use the links on this page. If you do, thank you so much!

Is The JTA-230 The Most Affordable Turntable On The Market?



Jensen JTA-230 Stereo Turntable with Built in Speakers

Jensen JTA-230 ratings at a Glance:
EASE OF USE

4.1 / 5

Limited controls with some notable features left out

BUILD QUALITY

4.0 / 5

Bulky, outdated frame with solid construction

SOUND QUALITY

4.1 / 5

Convenient built-in speakers but limited in quality

VALUE FOR MONEY

4.2 / 5

Solid mix of affordability and overall utility

Jensen JTA-230 3-Speed Turntable Overview
When it comes to turntables and record players, things can get expensive fast. Jensen's JTA-230 is a breath of fresh air, checking in as one of the most affordable on the market.
Even better, it comes loaded with features that can make it incredibly convenient for record owners and music lovers.



Many of these features are available on other competitors, but at 2 or 3 times the cost of the JTA-230. You can convert vinyl to MP3, connect external speakers, or just jam out to your record collection with the built-in speakers.
The JTA-230 may be one of the most accessible turntables, and is a great place to start if you're on a budget.

A High Function Turntable From A Trusted Name In The Audio World
The JTA-230 from Jensen Home Electronics has a simple mission: provide a highly usable turntable for the modern consumer. Doing all that with an affordable price tag is just a bonus.
While it doesn't have as sleek a design or appearance as some, the versatile features make it user friendly. When you consider the built-in speakers, this makes a great do-it-all option for those new to turntables and record players.



Who Is The Jensen JTA-230 Best Suited For?
The Jensen JTA-230 may be the ideal turntable for the first time buyer. It's affordable, simple to use, and lets you dip your feet into the turntable pool.
Furthermore, with built-in speakers it doesn't require you to have any other audio entertainment system set up. That same feature makes it a great option for students in dorm rooms.
Even if you just have a small living space, or want it in a bedroom, this Jensen JTA-230 is a great option for tight spaces.

What's Inside The Box?
One of the neat extras you'll find inside the Jensen JTA-230 is a USB connection cable and vinyl to MP3 software. This software comes with each turntable, making it easy to convert your vinyl collection to digital, for listening on the go.
This makes it an especially good value if you don't already have a subscription to a streaming service. The built-in speakers mean you don't have to connect your own, but if you prefer to, note that this doesn't include the necessary RCA cables.


Jensen JTA-230 Features & Specs
Two built-in stereo speakers highlight the spec sheet on this Jensen JTA-230. This gives you the convenient ability to plug in and play music instantly out of the box.
Choose between 3 speeds on this belt-driven turntable alongside pitch, volume, and tone controls. The USB port and connected cable lets you plug in your computer to convert vinyl to MP3 as well.
If all that isn't enough, you can even plug in your iphone via the auxiliary port to use the Jensen JTA-230 as a speaker. All that with a built-in dust cover on top makes for a loaded spec sheet.

JTA-230 Highlights
Two, stereo speakers
Auxiliary port to connect iphone or MP3 player
3-speed turntable
Built-in dust cover
MP3 to vinyl conversion capability



How To Use The Jensen JTA-230 Stereo Turntable
Unlike some of the competitors, the Jensen JTA-230 should be ready to go right out of the box. Just plug it in and play your favorite records through the stereo speakers built right into the chassis.
If you've ever wanted to backup your vinyl collection digitally, this is also a key feature of the JTA-230. Otherwise, it's really a very simple, straightforward system.
You have three major functions: playing records, using the aux port with an iphone, and converting vinyl to MP3.

Jensen JTA-230 Review – Key Points

What We Like
Auxiliary port for external sources
Built-in stereo speakers
Super affordable
Built-in dust cover

What We Don't Like
Average sound quality
Out-dated appearance
Less features than some turntables







A Quick Look at Comparable Systems:

Victrola's Vintage Suitcase Turntable with Bluetooth packs a similar amount features in for less money. This bluetooth enabled turntable is even portable, with aux, headphone, and RCA jacks.
You can connect almost any speaker or external music source to this thing! Better yet, it all comes in a rugged suitcase housing that folds up nicely for transport or storage.

Looking for something with more of a retro vibe? Check out Victrola's Modern Bluetooth Turntable with Speakers. This wood and burlap construction turntable also features two external 50 watt speakers.
However, pairing classic looks with high output, quality sound will cost you some extra money. But for the real, classic turntable vibe, check it out!

If you still want to stay on the lower end of your budget, check out the Wockoder 3 Speed Vinyl Record Player. This affordable turntable packs two stereo speakers, a built-in dust cover, and a classic wood chassis.
You also get bluetooth connectivity letting you use this as a speaker for your external music devices such as an iphone. Overall, it's a lot of function for a low cost and worth considering!


Our Final Thoughts On The Jensen JTA-230
Jensen has created a very beginner-friendly product with the JTA-230. With the internal stereo speakers, any vinyl enthusiast can get their records playing in no time with this turntable.
It does have a nice collection of features, even though it leaves out a few common on competitors like bluetooth capabilities. Overall, the most attractive thing about the Jensen JTA-230 has to be the ultra affordable price.
You can quickly, and cheaply, get this JTA-230 playing right out of the box in a wide variety of settings. From dorm rooms to shared living spaces, the Jensen JTA-230 is a worthy contender for the budget minded turntable consumer.




Ease of Use

Build Quality

Sound Quality

Value Factor