Updated November 16, 2022
How do these two top record player brands stack up against each other in a Victrola vs Crosley comparison? And which one is better?
Should You Choose Crosley or Victrola?
Victrola and Crosley each have their own distinct brand identities even though they produce similar products in the music industry.
They've both established themselves as brands that have a reputation for putting out quality record players.
But when comparing Victrola vs Crosley the real questions are: how do they stack up against each other? And which of the two is better?
We hope you find this article helpful and unbiased. By using links on this page we may receive compensation at no extra cost. If you do, thank you so much!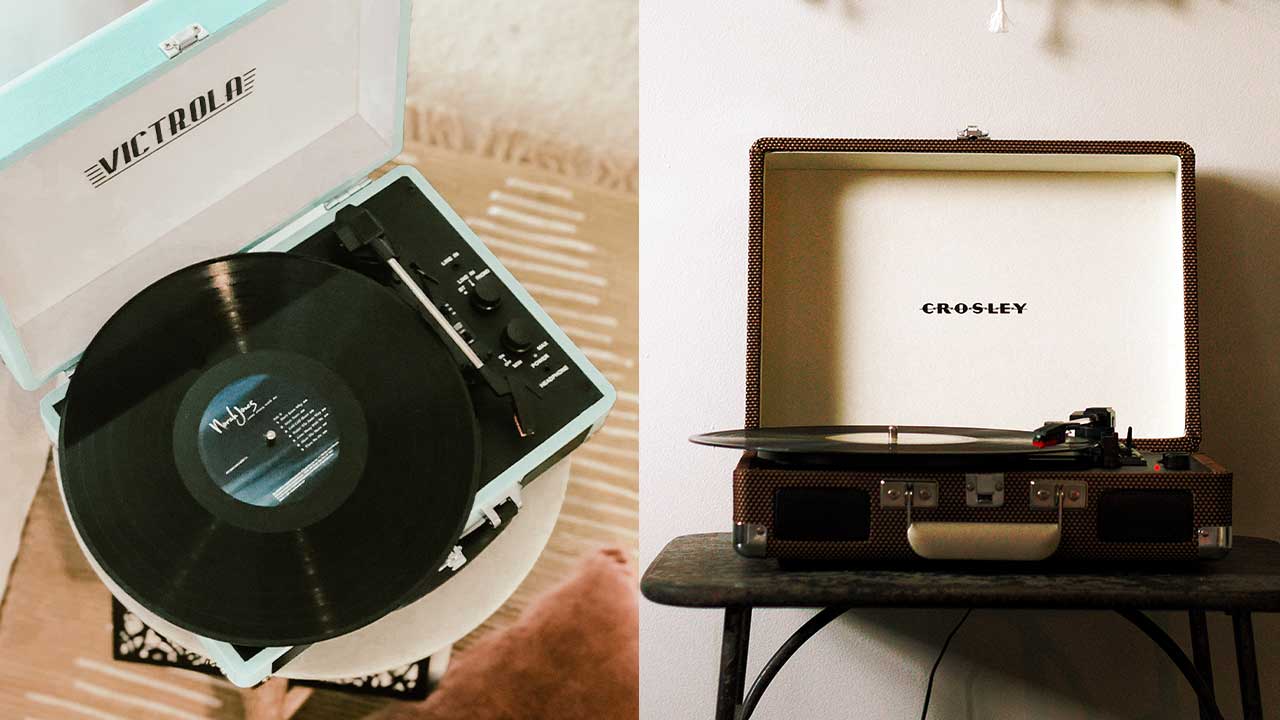 Comparing Victrola and Crosley Record Players
What to Expect About Making Your Own Decision
In this post, we're going to concentrate exclusively on Crosley and Victrola – two of the most popular manufacturers of everyday units for new vinyl enthusiasts.
We'll look at some of the most common record player questions in more detail, and finish off by going through the highlights of three models from each brand.
In the end, you'll get an overview of the differences, an idea of what they offer, and a better understanding of which brand is best for you.

Are Victrola and Crosley the Same?
In a broad sense, a record player can range from a truly inexpensive unit with built-in speakers to an incredibly refined piece of audio art.
In comparison, Victrola and Crosley can both be considered entry-level brands.
Good Value or Good Sound?
Both companies make low cost record players that may work well, but won't necessarily stand up to the demands of a true audiophile.
In other words, they don't sound truly amazing and typically only have the most basic features.
But they do represent a good value.
For the purposes of this post, we're going to concentrate exclusively on Crosley and Victrola – two of the most popular manufacturers of everyday units for new vinyl enthusiasts.

Which is Better, Victrola or Crosley?
That depends on what you're looking for. Our staff at FatCityTurntables.com went through some of the top offerings from each company to give you a better idea.
To keep things fair, we've chosen models that represent a reasonable cross section of what each manufacturer is currently offering.

What About Sound Quality?
Within certain price ranges, the available models are usually higher in portability but lower in sound quality and speaker quality.
For instance, inexpensive record players with built-in speakers may have a decent sound, but will typically lack a deep bass response.
This is true when comparing Victrola vs Crosley, though Victrola will tend to have a clearer overall sound.
What are other good brands of record players?
Beyond this comparison of Victrola vs Crosley, there are a quite few excellent brands of record players out there.such as:
Audio-Technica
1byone
U-Turn
Rega
Denon
Pro-Ject
TEAC
and many more.
When it comes to vinyl records, each company has its own spin on sound quality and other key features that make them unique.
Many of the same features among most record players would include rca output, headphone jack,
Whereas more upscale features would include pitch control, built-in bluetooth or usb port, external speakers for better sound and audio quality, remote control, or perhaps an auto return feature.
Above all, each one provides the ability to play music.

Company Profiles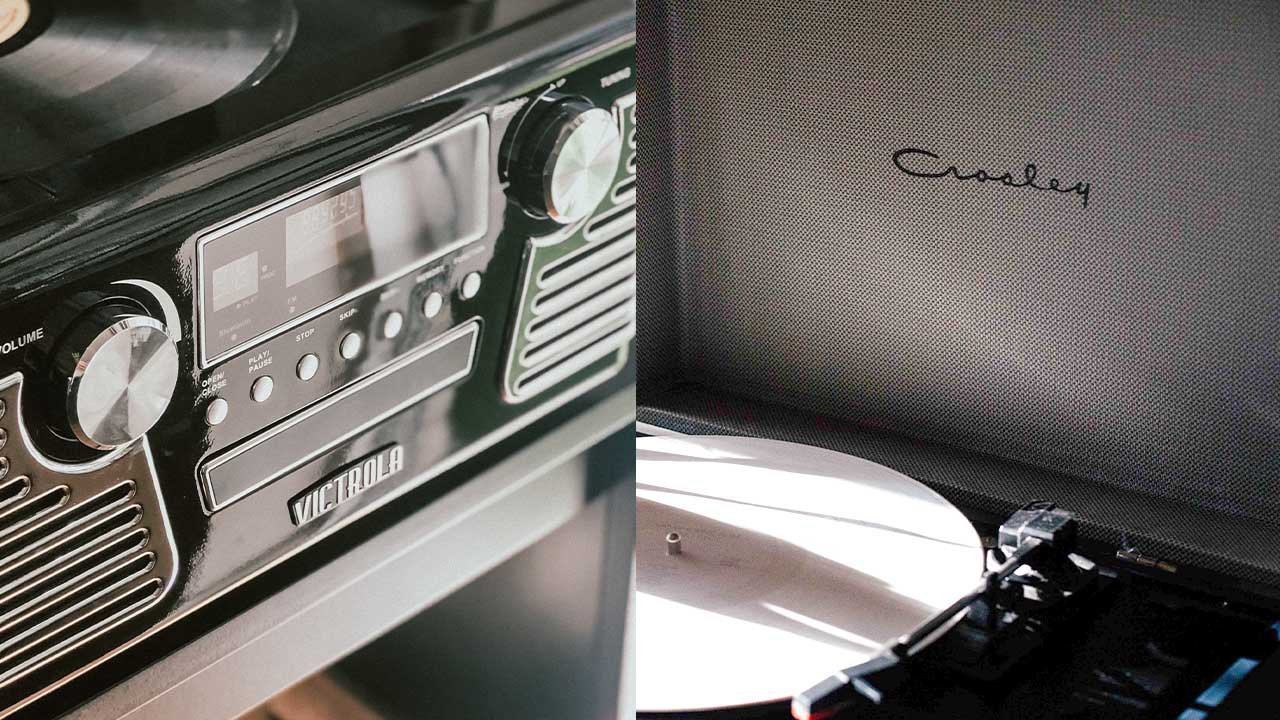 Are Victrola Turntables Good Quality?
The Victrola brand has been in business for over a century, and has gone through a few incarnations.
In its latest form, the Victrola company focuses on home entertainment. It does have a range of products at different price points, so you will find something to match your budget.

Music Industry Retro
Victrola also produces a range of styles, but retro styles seem to be more prevalent.
When we say "retro" here, we don't just mean it looks like something out of the sixties.
They also have models that wouldn't have looked out of place at the turn of the last century.
With the continuing popularity of vinyl records, the company is using Victrola Innovative Technology to help improve and develop their products.
If retro is your thing, this long-standing record player company is a great place to start.

Along with playing vinyl records, they also offer a lot of multi-functional products with modern features.
You'll see below that they have an entertainment center with built-in stereo speakers and cassette deck that will play via Bluetooth or play CDs, records, or even the radio.
We have mixed feelings about these all-in-one models.
Sure, they save space and give you many different options when it comes to playing music, but we have to wonder whether there are too many components to sync in these models.

Are Crosley Record Players Good?
Crosley has proven themselves to be a visionary in the market.
They don't have as long a pedigree as Victrola, but they have been around for over thirty years now.
Where they proved visionary was back in 1992, when they started releasing vinyl players.
At that stage, it seemed like an insane move. After all, CDs were the rage and offered listeners a whole new experience.

As it turns out, it was a longshot that has paid off in the long run. The recent resurgence in popularity of vinyl has proven them right.
The company now manufactures a wide range of home electronics, plus they include helpful videos for their products.
Today, the Crosley company focuses on creating players that work well and also look good.
They have several options that look retro, and a Crosley record player can make you feel like the coolest kid at the party.

Are Crosley Turntables Good Quality?
Unfortunately, sometimes the company has a tendency to sacrifice sound quality to stay with the full retro vibe, particularly with portable turntables.
While we appreciate that they are trying to maintain an image, this means that not all models perform as well as we would like.
Moreover, potential customers still tend to think of them as cheap record players.
Is a Crosley Really That Bad?
There have been reports of motor noise leaking from the turntable into the stylus.
And the smaller speakers on some models lack the bass response more experienced audiophiles would appreciate.
Regardless, you can still enjoy the vinyl record player experience especially when connecting external speakers that produce a wider range of frequencies.
That said, even on a bad day, a Crosley record player will outperform most of the cheaper brands out there.
Price-wise, the company strives to keep things affordable, which is a big mark in its favor.
It has a range of products to suit every budget. It also scores big points in the customer service arena.
Crosley offers a one-year warranty on all their items that covers manufacturer's defects.

Overview of Victrola Models
These popular Victrola models offer both quality sound and an aesthetically pleasing retro design:
1. Victrola Vintage Suitcase Turntable
This Victrola turntable model the least expensive model that we review here, and it is good if you like a plain, unassuming look.
Though considered an entry level turntable, it is portable and when closed, looks like a vintage suitcase.

Victrola Vintage Suitcase Turntable features:
Three speeds – 33 1/3 RPM, 45 RPM, and 78 RPM –to play any vinyl in your collection
Bluetooth to stream through music from your phone
Compact, easy-to-carry design
RCA Aux-In and a jack for headphones
Built-in speakers
Electrical, not battery, power
Simple set-up and use
If you want something that is easy to take with you, this Victrola turntable could work out well.
We do suggest managing your expectations in terms of sound quality, however.
The portability of the unit means some sacrifice in sound quality and volume. Plugged into a preamp or better speaker system, it will do better.
2. Victrola Nostalgic Aviator 8-in-1 Entertainment Center
One of the more expensive record player models we're reviewing, this looks ultra-cool if you like a 1940s aesthetic.

The Victrola Aviator 8-in-1 Entertainment Center features:
Three speeds – 33 1/3 RPM, 45 RPM, and 78 RPM – to play any vinyl in your collection
Bluetooth connectivity to stream through music from your phone
Plug for your Apple device
Record from vinyl, cassette and CD to USB
Cassette player and CD player
FM radio on it
RCA Aux-In and a jack for headphones
Built-in speakers
Again here, along with the record player we wonder about the wisdom of incorporating all these different forms of media.
We can understand having a CD player as well, but for this how many people still listen to cassette tapes?
For this Victrola model, the phrase "jack of all trades and master of none" comes to mind.
Read our full review of the Victrola Aviator here.
3. Victrola 50's Retro Bluetooth Record Player
This stylish retro Victrola record player model comes in at a reasonable price and is one of the most popular models on this list.

Victrola 50's Retro Record Player Key features:
Record from Vinyl to MP3
3-Speed Turntable (33 1/3, 45, 78 RPM)
AM/FM Radio with Backlit Tuner
Built-In CD Player & Stereo Speakers
Bluetooth Wirelessly Streams Music up to 33 Feet Away
3.5mm Aux-In and Headphone Jack
As mentioned, this Victrola Retro Record Player is reminiscent of the 50's. It sports a stunning diner-style finish and includes a host of extra connectivity features for extra convenience.
Check out our complete Victrola 50's Retro Bluetooth Record Player review here.

Overview of Top Crosley Models
Let's have a look at some of Crosley's most popular record player offerings with vintage appeal:
1. Crosley Cruiser Deluxe Suitcase Turntable
This Crosley model has a pleasing vintage look and is not badly priced.

Crosley Cruiser Deluxe Suitcase Turntable key features:
Three speeds – 33 1/3 RPM, 45 RPM, and 78 RPM – to play any vinyl in your collection
Built-in Bluetooth to stream through music from your phone
Adjustable pitch control
RCA Aux-In and a headphone jack
Built-in speakers
For a Crosley record player, the sound here is not bad, but it does pay to realize that there is only so much volume that you can achieve from built-in speakers.
If you want to rock the whole house, you're going to have to connect from the Crosley Cruiser to a separate preamp and speakers, or external powered speakers with a lot more juice.
2. Crosley Executive Portable USB Turntable with Bluetooth
This portable Crosley record player comes in a cool two-tone briefcase design, but it doesn't put out a whole lot of sound.
Again, as with many portable record players, it's better if used in conjunction with external powered speakers or earphones.

Crosley Executive Turntable Feature highlights:
Three speeds – 33 1/3 RPM, 45 RPM, and 78 RPM – to play any vinyl in your collection
Bluetooth to stream through music from your phone
Adjustable pitch control
RCA Aux-In and a headphone jack
Built-in speakers
Able to connect to your computer to back up your music
Again, manage your expectations. As with many Crosley turntables, it puts out some decent sound, but it's not going to be the highest volume you've ever heard.
3. Crosley Musician Turntable
This model comes in at the top of our price range, but it has some pretty nice features. Of all the vintage models, this one looks the most authentic.

The Crosley Musician features:
Three speeds – 33 1/3 RPM, 45 RPM, and 78 RPM – to play any vinyl in your collection
Ability to plug in your MP3 player or phone (no Bluetooth)
CD player and programmable 20-track memory
Cassette player
AM/FM radio
RCA Aux-In and a jack for headphones
Built-in speakers
The reviews for this model are largely good. The sound is not bad, and it works well.

Personal Thoughts on Crosley and Victrola
Both companies are in an extremely competitive market place. When you look at the shear number of sales, 82,000 in the US in 2021 alone, the vast majority of record players and vinyl turntables are relatively inexpensive units geared more towards a visual vibe rather than performance.
In this respect both companies are guilty of producing models aimed at the lower end of the market which is known for being riddled with questionable quality. In other words, you get what you pay for.
A quick market study of the first 100 results for "record player" on Amazon.com confirmed an average price of $110.03. While this is certainly a higher price point on average compared to pre-2020 prices, over 20% of current results were still priced below $50.00.
Does this mean Victrola and Crosley are spending sketchy quality time together in the bargain basement? Not at all.
Both companies have been developing products for some time that are geared towards intermediate levels. True vinyl enthusiasts do want a better product, and they're discerning when it comes to quality.
Will Crosley or Victrola satisfy the needs of an uber-audiophile? Probably not. For example, European turntable manufacturers Clearaudio and Pro-Ject both make absolutely stunning units that cost well into the thousands.
Victrola and Crosley occupy different territory. Both companies know their place, exercise reasonable quality control and know what their core audience is after in a record player.
Another way to slant the question is: are Victrola record players better than Crosley? Or vice-versa?
It's a tough call – both brands seem to match one another well. As mentioned Victrola is a long established company and their record players sell very well.
Crosley on the other hand, may not have as long a history, but offers an amazing array of record player options, plus a host of related electronics products.
Finally, we have to look at it from the point of view of the warranty. We don't like the wording of Victrola's warranty.
With our concern about the longevity of multi-functional devices, this works against the company. In the end, we think that Crosley wins by a hair thanks to this point.
STAFF PICK
Crosley Musician Turntable

Overall Build Quality

Overall Sound Quality

Overall Value Factor
Summary
Overall Average Score: