With sleek vintage style and a host of modern features, is this turntable as good a value as people think? Find out in our expert Victrola 50's Retro Bluetooth Turntable Review!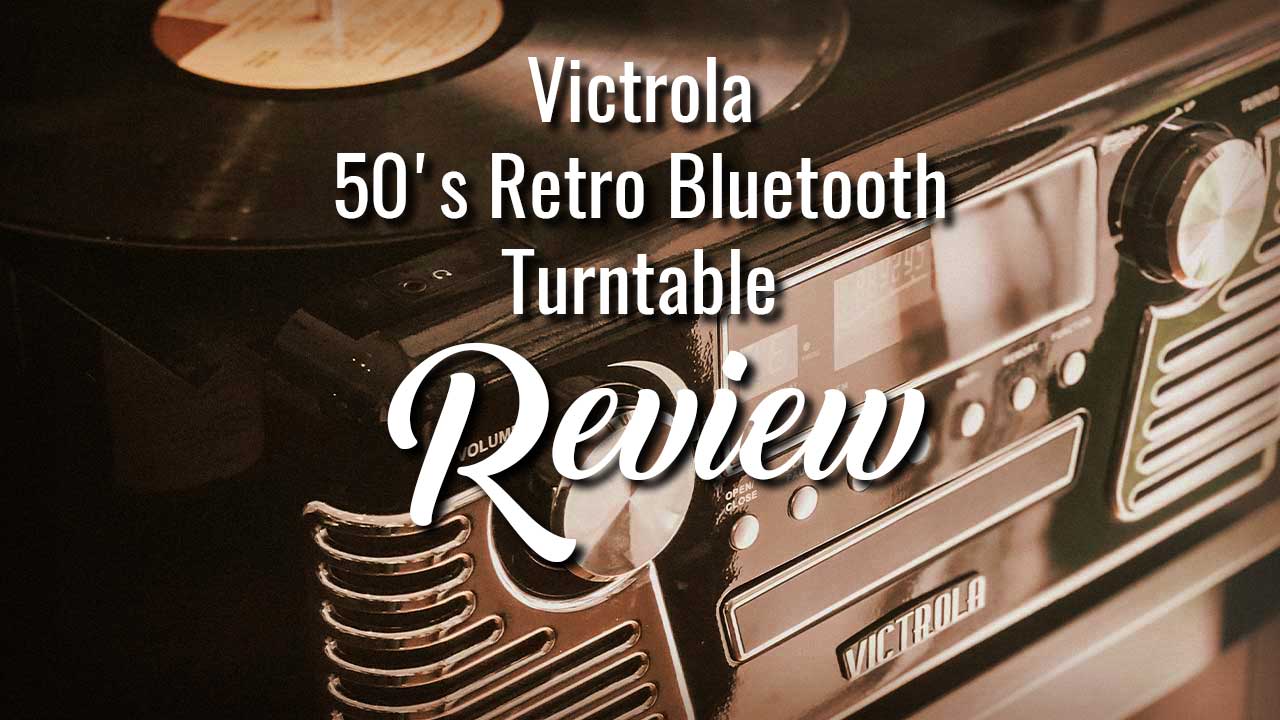 Reviewing the Sound, and Look, of Fifties Retro with Victrola
The Victrola Retro 50's Turntable at a glance:



The Victrola 50's Retro Bluetooth Turntable

EASE OF USE

4.5 / 5

An all-in-one unit with CD player, radio, and Bluetooth

BUILD QUALITY

4.8 / 5

Well-designed, available in four different color options

SOUND QUALITY

4.0 / 5

Requires external speakers to improve sound quality

VALUE FOR MONEY

4.8 / 5

Very affordable price point for its brand and features

A Retro Turntable Overview
Victrola has been creating audio appliances since 1906 and they never stopped since then. Their expertise and craftsmanship are incomparable to other newer brands.
When the nineties came, almost everyone thought that the era of vinyl records have drawn to a close, but Victrola proved that it's just dawn of a new era, just like all the other decades they've lived through.



Today, we are going to talk about one of their units, the 50's Retro 3-Speed Bluetooth Turntable. What makes this unit so unique is its retro design. That and being one of the better multiple featured record players found a very affordable prices. Let's go ahead and learn more about this product.
We certainly hope you benefit from the information we provide in this article! Just so you know, we may receive compensation if you use the links on this page. If you do, thank you so much!

Victrola 50's Retro 3-Speed Bluetooth Turntable in Design



This brand has a collection of affordable three-speed turntables of various designs. There's one that sports a mid-century vintage vibe, there's a portable one with a suitcase casing complete with a carrying handle, and of course, there's a simple, more minimalistic piece with wooden accents.
Of all their versions though, the unit we're featuring here has a retro feel to it, conjuring up what you would expect from a fifties diner playing your favorite tracks as you're sipping a spiked milkshake.

Who Is This Retro Turntable For?



This unit is for music lovers looking for a stylish, fun-looking turntable that's made by a brand renowned for high music quality but who are not willing to shell out a lot of money.
This is also great for beginners looking for a nice entry-level turntable to start playing their favorite tracks all in one place, including CDs, radio, and streaming from portable digital devices.

What's Included and How Does It Work?
If you have decided that this product is for you, you can expect to receive the turntable equipped with a stock stylus that can easily be replaced later on. For more information, here's a quick unboxing video:


Overview of Victrola Features
Let's now talk about its impressive features since there are quite a few. Here they are:
All-in-One Audio Device: This record player can also serve as a CD Player, radio, converter, and recorder. Just pop in your favorite vinyl records and convert them into MP3.
Bluetooth-Enabled: This unit can connect to your portable digital devices as long as they have Bluetooth connectivity.
Three Speed Options: You can play all your vinyl records regardless of their RPM. This unit can play 33, 45, and 78 RPM tracks.
Different Color Options: There are four: black, blue, red, and teal.
The only thing missing from this device is the ability to play cassettes; otherwise, it would be complete.
Color Options Available:

How to Get the Best Sound from Your Victrola Retro Turntable
The Victrola 50's Retro 3-Speed Bluetooth Turntable is already affordable on its own, but to make it even worth your money, here are some tips to get the most out of it:
Place it on a stable surface. Make sure your record player won't move around, and it is far from other audio devices that create subtle vibrations such as speakers.
Use external speakers. Speaking of which, you can connect it to external speakers to get better sound quality. Just make sure to put your speakers on a separate surface. You can do the same for the portable digital devices you are going to link to your record player.
Make sure that everything's aligned and levelled. Vinyl records were made to be played at a completely levelled position. You can use an actual level to check if the surface where you'll put your turntable on is flat. You should ensure that your tonearm is directly parallel to your record as well and that it has the right tracking force in order to avoid damaging your vinyl.
Putting the tips we have shared with you into action will significantly increase the quality of your listening experience.

The Victrola 50's Retro Bluetooth Turntable vs. Similar Units
This unit is indeed impressive with its numerous features, but are there other record players out there that can match it? Let's find out.
Wockoder's 3-Speed Record Player
For our first find, it's the Wockoder's 3-Speed Record Player. It's around the same price as our featured item by Victrola's, but if you're looking for a more toned-down minimalist look or a unit that exclusively plays vinyl records, then this piece is for you.
1byone's Nostalgic Wooden Turntable
The second item we've found that also offers three-speed settings is the 1byone's Nostalgic Wooden Turntable. As the name suggests, it has a mid-century design. It's a bit more expensive than the Victrola 50's Retro 3-Speed Bluetooth Turntable because it has a cassette player as well.
Victrola Navigator 8-in-1 Classic Bluetooth Record Player
Finally, if you're wondering whether Victrola has another model that also has a mid-century design that plays cassettes, then you might want to look at their Navigator 8-in-1 Classic Bluetooth Record Player. In fact, to take it to another level, this unit comes with a remote control too. However, expect that it's more expensive than the unit we've featured here.

Pros and Cons


 Victrola 50's Retro Turntable Review


What We Like
Well-known brand
Different style options
Various speed options
Affordable

What We Don't Like
Sound quality could use improvement






Final Thoughts: Is The Victrola 50's Retro Turntable Right For You?
In the end, it will all depend on your audio needs. Do you really need a cassette player, or can you settle for a unit that lacks one? Or probably the unit that you need is one that only focuses on playing vinyl records?
Take your budget into consideration as well. We believe that the Victrola 50's Retro 3-Speed Bluetooth Turntable already gives you the best of your money's worth, but if you have the extra budget, then why not invest it on the Navigator 8-in-1?



Check the Latest Victrola 50's Retro Turntable Price! >>

Ease of Use

Build Quality

Sound Quality

Value Factor