What's the the best all-in-one turntable for your given budget? With so many to choose from, there must be some great deals available – but which ones? Find out in our comprehensive guide!
We hope you find this article helpful and unbiased. By using links on this page we may receive compensation at no extra cost. If you do, thank you so much!


Who Makes The Best All-In-One Turntable?
There are tons of multifunctional turntable systems out there, all packed with great features and functionalities for enjoying music. But which ones represent the best of the best?
Luckily for you, we did the hard work of filtering out best all-in-one turntables available to make your decision making easier.
For those of you looking for a such a system, we've reviewed seven attractive models to see which one ticks all your boxes.
All-in-one turntables compared:
Product
Image
Key Features
Rating

#1 *Best Choice*

Loaded with media playback features

Well-recognized brand name

(4.6)

#2 Best Value

Great design features

Upgrades that make it stand out

(4.6)

#3 Premium Pick

Tuned acoustic box

Long established brand name

(4.7)

#4

Versatility and connectivity

Retro style from a well recognized brand

(4.5)

#5

Beautiful retro design

Affordable versatility

(4.5)

#6

Unique throw back styling

Versatility and connectivity

(4.7)

#7

Vintage design from an established brand

High quality built-in speakers

(4.3)
Top 7 All-in-One Turntables in Review



Victrola Navigator 8-in-1 Multimedia Center
Victrola Navigator 8-in-1 Overview
The Victrola Navigator is a popular all in one turntable for nearly anyone who enjoys music media.
As a complete entertainment center that includes speakers, a turntable, CD & cassette players, and a radio, it also sports interesting vintage-retro design elements.

Highlights
If you're looking for a record player packed with all kinds of music features, this all-in-one turntable system made by Victrola is the best all in one turntable for you.


It's perfect for vinyl collectors since it offers a 3-speed turntable, an abundance of players, and a built-in Bluetooth to stream your music.
What's more, you can record your favorite songs, and have them in digital format, saved on a USB stick.
Should you want to use your headphones or play music from a USB, there are enough ports to fulfill all your needs.

Check Victrola Navigator Availability >>
Victrola Navigator Features
3-speed turntable
Recording functions
Bluetooth connectivity
CD and built-in cassette player
USB, RCA, and headphone jack
RCA line outputs
Victrola Navigator 8-in-1 Key Points:
The Good
One of the most significant upsides of any all-in-one system is that it includes many features. Victrola's turntable can play your vinyl records using three speeds to balance the sound.
Also, Bluetooth makes this device even more versatile as it can stream your music even if you're 33 feet away from it.
And if you're determined to record your vinyl records, it's possible to transfer them directly to your Mac or PC.
This way, there won't be any vinyl record that you can't have on your phone and listen to whenever you want.
The Bad
If we were to pinpoint a soft spot on this device, it would definitely be the CD player.
Some users reported that it couldn't play CD's properly or it always returns them to the first song. Also, the CD player often makes noisy sounds before the music starts.
In Summary
What We Like
Compact music center
Bluetooth streaming
Advanced recording options


What We Don't Like
Occasionally has faulty CD player





ION Mustang LP 4-in-1 Vinyl Turntable
ION Mustang LP Overview
With a striking automotive design motif, the ION Mustang LP is the best multifunction record player for every car lover out there.
Its colors and lines are perfect for Mustang fans that want to enjoy its design features inside their home.
Plus, it features several useful upgrades that make it stand out in terms of looks and functionality.

Highlights
This all-in-one record player combo manufactured by ION Audio is an all-in-one setup that focuses on connectivity and record player experience.
It features additional RCA jacks, useful if you want to add more volume or simply enhance built-in speakers.

You can use this turntable to play every record from your collection. It offers three speeds and an additional 78 RPM stylus that you can purchase separately.
The USB port at the front is well-situated to place your stick and start recording.

What Do ION Mustang LP 4-in-1 Owners Think? >>
ION Mustang LP Turntable Features
4-in-1 music center
Additional RCA and AUX ports
3-speed turntable
Media conversion
USB port
ION Mustang Key Points:
The Good
The Mustang enhances how you consume your music with a 4-in-1 music center inspired by the famous car. It offers simplified controls that are intuitive and user-friendly.
Thanks to the USB port, it's possible to record vinyl tracks and store them directly on a USB.
With AUX and RCA ports, you can connect your all in one turntable with other devices or a home stereo system to achieve the best sound quality.
The Bad
One of the shortcomings of this stylish multimedia center is the quality of its record player components.
Since the sound heavily depends on the tonearm, stylus, and platter quality, it's impossible to achieve anything better than an average with such low-budget materials.
In Summary
What We Like
Eye-catching design
Easy to use
RCA and AUX ports


What We Don't Like
Lower-quality record player components





Electrohome Kingston 7-in-1 Vintage Vinyl Record Player
Electrohome Kingston 7-in-1 Overview
Electrohome's Kingston Stereo System was created as a retro-style music center capable of using several types of media to play music.
Don't let the beautiful vintage styling deceive you, as this 7-in-1 player offers a plethora of modern features.

Highlights
If you're passionate about vintage style, this all-in-one system from Electrohome will meet all your expectations. Not only does it feature a turntable, but it also has a CD player and radio.


You can use it to convert your favorite tracks and play music from any device wirelessly.
everything is tightly packed in a vintage-like wooden box with four speakers, the sound quality will always be spot on.

Check Electrohome Kingston 7-in-1 Availability >>
Electrohome Kingston Features
Turntable
CD player and radio
Converts records to MP3
Features four speakers
Acoustic wood cabinet
Wireless music streaming
Electrohome Kingston Turntable Key Points:
The Good
One of the Electrohome system's best features is the wooden cabinet that refers back to old-style radios.
Plus, you can use it to digitalize vinyl, especially records that might be damaged or unique.
What's more, you can then play your recording back from the USB or use Bluetooth from any smart device.
The sound of any song from Spotify or Deezer will be softened, and you can even play audiobooks or listen to podcasts.
The Bad
It doesn't surprise that all-in-one turntable systems experience functional issues. In this particular case, it lies in the low-quality tonearm and platter.
What's more, when the speakers lack space, like in this case, they could be louder even when they're on maximum volume.
In Summary
What We Like
Acoustic wooden cabinet
All-in-one system
Easy record digitalization
Play music from any device


What We Don't Like
Low-quality turntable equipment
Volume issues





Victrola 50's Retro Bluetooth Record Player
Victrola 50's Retro Overview
For anyyone looking for the best turntable cassette cd player, the Victrola 50's Retro Record Player is one of the best options out there.
As a brand with an incredibly long history, it's become famous for its nostalgic and retro design elements – iconic product stylings that have become recognizable worldwide.
Plus, if the '50s are your favorite decade, you'll love this record player combo even more.

Highlights
This Victrola all in one turntable system is so simple to use that all it takes is a few seconds, and everything will be up and running.
Its design is straightforward; it works equally well for vintage record enthusiasts and novices who just bought their first record.
On top, you'll see a record player with three speeds to ensure the best possible sound quality. It works with 33 1/3, 45, and 78 RPM while the motor provides minimal vibrations.
All its buttons are LED illuminated, giving it a nice touch; you can see all its controls even if the lights are off.
It's retro lines and design comes in three color palettes that refer to the 50s: black, white, and red. Those who want to connect Victrola to their mobile devices can do it easily using Bluetooth.
This is a solid choice for anyone who wants a record player with everything you need and is reasonably priced.

Read the Latest Victrola 50's Retro Reviews >>
Victrola 50's Retro Turntable Features
User-friendly
Three-speed belt-driven turntable
LED light buttons
Retro design
AUX, USB, and Bluetooth connectivity
Victrola 50's Retro System Key Points:
The Good
If you're looking for the best record player system to take you back through time, the Victrola 50's is the best all on one record player for you.
It's well-made and features everything you need to listen to some great music. It can serve you as an external speaker or an MP3 converter for your favorite hits with a stable Bluetooth connection.
On top of that, it includes a CD player and a radio if you ever get tired of your record collection.
For one of the most budget-friendly options among other all-in-one solutions, Victrola has a lot to offer.
The Bad
What reviewing users noticed are problems with the CD player. Not only that it won't play CDs, but it's also hard to turn on.
This is not the biggest problem, but if you're planning on listening to CDs every day, it might be better to consider another device.
In Summary
What We Like
Wireless Bluetooth music streaming
MP3 conversion
Sturdy and compact box
Budget-friendly


What We Don't Like





Crosley CR42D-PA Lancaster 3-Speed Turntable
Crosley CR42D-PA Lancaster Overview
The Crosley Lancaster model is another example of an all in one music system with a turntable that incorporates retro design with industrial design details.
With this 6-in-1 entertainment center in your home, there will always be music.

Highlights
Now, you can listen to all the old cassettes and CDs that you have in the basement. You can also turn on the radio to remind yourself of the past.
This all-in-one table provides you with the best of both worlds.


It also features a Bluetooth receiver that works well with mobile phones and streams all your music directly to the speakers.
And the AUX cable enables you to connect virtually any audio device you can imagine. If you want to reignite your passion for LPs, try turning on the 3-speed turntable.
With two robust loudspeakers, Crosley offers the best all in one turntable system sound.
If you love to sit around with friends and play music, this record player system will provide you with a loud and compact sound in every situation.

Check Crosley Lancaster Turntable Availability >>
Crosley Lancaster Features
Hardwood box
Diamond stylus
CD and cassette player
Bluetooth receiver
Three-speed turntable
Two large built-in speakers
Crosley Lancaster Turntable Key Points:
The Good
This is one of the more robust Crosley all-in-one record players that comes packed with extras. The exterior is where this record player shows most of its strengths.
Everyone who enjoys vintage style and collectibles will undoubtedly want to have this all-in-one system in their home.
Its analog radio requires some fine-tuning every time you turn it on since it will take a few days to figure out all of its functions and buttons.
Its turntable is quite versatile as it can work with several different vinyl types. Its diamond stylus ensures a high-quality sound that any audiophile would hugely appreciate.
The Bad
One of the issues some users noticed is that buttons are at times almost invisible.
When a music system as big as Crosley's comes with so many buttons that don't have an intense backlight, you won't be able to see whether you're turning on the radio or the CD player.
What's more, elderly users had a hard time differentiating the buttons as many of them look the same.
In Summary
What We Like
Compact and hardwood design
Vintage design
Versatile turntable
High-quality stylus


What We Don't Like





LuguLake Vintage All in One Turntable
LuguLake Vintage All in One Overview
The LuguLake Vintage Phonograph is one of the most beautiful models among our all in one record player reviews.
The highly vintage inspired design of this particular LuguLake model appeals to true vinyl lovers who will appreciate it to its fullest.
Featuring intricate details complemented with a large copper horn not seen for multiple decades, it doesn't get more vintage than that.

Highlights
LuguLake Vintage is an all-in-one turntable that features a large copper horn on top of a decorated wooden box.
This model, in particular, has a retro exterior and a very modern interior. This vintage-looking record player comes with a quick and easy set up as you don't have to use any tools or a particular manual.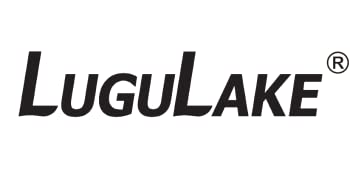 You can control it through the panel and remote control that makes it ideal for any living room or bedroom.
When it comes to the turntable, it's a high-quality belt-drive model with a Ruby stylus and a copper horn.
After the first record, you'll notice the sound difference since you can hear it through the copper horn and built-in speakers. It's truly a unique experience.

What Are LuguLake All-in-One Owners Saying? >>
LuguLake Features
Gramophone styled horn
Bluetooth connectivity
Vinyl to MP3 recording
AUX input
AM/FM radio
Headphone jack
Cassette and CD player
LuguLake All-in-One Turntable Key Points:
The Good
To have the best stereo system with a turntable, just get this LuguLake state-of-art device. It features a belt-drive turntable that you can install in just a few simple steps.
Its built-in speakers are 20W full range, and not only do they look good, but they produce a delicate sound.
With a replaceable Ruby stylus, your record will be protected from micro-scratches and give you the best tone quality.
The knobs on the wooden base feature LED lights for better visibility. The panel only includes the necessary buttons, while the remote comes with all the expected options.
This turntable is made to stand on a table or shelf, as its dimensions make it larger than other models.
The Bad
One of the most significant downsides of this model its stylus. Not only might it significantly scratch your vinyl records, but at times it isn't so precise, and the sound quality drastically deteriorates.
The other problem is that the needle is tough to replace, which only worsens the situation.
In Summary
What We Like
Belt-driven turntable
Powerful built-in speakers
Ruby stylus
Copper horn
Multifunctional panel


What We Don't Like
Sharp needle
Hard to replace needle





Sylvania SRCD838 5-In-1 Nostalgic Turntable
Sylvania Nostalgic Turntable Overview
Should you want to get the best record player combo with high-quality speakers, the Sylvania Nostalgic 5-in-1 is the best choice for you.
Sylvania is a brand devoted to combining retro design with modern functionality. This model represents that style in the best way imaginable.

Highlights
This paricular all in one music system is favored among audiophiles since it comes with an abundance of music features packed in a crafted wooden box.

Many people see it as one of the best all in one turntable system devices that allows you to play CDs, records, cassettes, and a radio.
Furthermore, if you ever feel the need to pair it with your phone, tablet, or computer, you can simply plug them in using an AUX jack.
With a simple cable, this record player will play your music loud and clear for everyone to enjoy.
What's more, the turntable sound performs really well, and it's clear enough even when you play a cassette or a CD.
Check Sylvania 5-In-1 Nostalgic Turntable Availability >>
Sylvania 5-In-1 Turntable Features
High-quality built-in speakers
Record and CD player
Cassette player
Oversized retro dial
Matte wood finish
AUX input
Sylvania SRCD838 Nostalgic Key Points:
The Good
If you're looking for a moderately priced vintage all-in-one record player, it doesn't get much better than this.
The Sylvania is a versatile product that can play various formats, including a vinyl record, CDs, old cassettes, and a lot more.
You won't have to think about any additional equipment as the Sylvania 5-in-1 system has everything you need.
Even if you want to use more robust and louder speakers, you can attach as many as you'd like with an AUX input.
The Bad
Without Bluetooth connectivity, you'll always need additional cables to connect your devices to your audio device.
Especially if you don't want to stand next to the speakers while you're playing something. For some users, this is a real deal-breaker.
In Summary
What We Like
Vintage design
Moderate price
Built-in loudspeakers


What We Don't Like
Lacks Bluetooth connectivity




Buyer's Guide for All-in-one Turntables

Speakers
The idea behind every all-in-one turntable system is a perfect combination of a turntable and speakers.
When you're buying a new turntable, make sure you've accounted for additional investments should you need a separate set of speakers.
Luckily, most record players use a standard RCA plug, which allows you to choose among various brands.
Keep in mind that some record players can only use compatible speakers, and make sure you're aware of this in advance.
Recording Features
many all-in-one record players can record vinyl and transform it into a digital MP3 file.
The recording process can't damage your vinyl, and it gives you a chance to listen to your favorite album on the go.
Usually, you can save your record directly to a USB, but some turntables even allow you to burn it directly on the CD.
Bluetooth Connection
The ability to connect your devices to speakers using wireless Bluetooth is becoming increasingly popular among turntable users.
Suppose you want to use your turntable speakers with multiple devices like tablets, phones, or your computer.
In that case, you'll have to check whether they support this type of connection. Most all-in-one devices have a Bluetooth option built-in so you could use the speakers with your phone.
It actually proves to be incredibly useful, especially if you love playing music.
Internal Preamp
Preamps come in various shapes and sizes. If you're not sure whether your turntable has a preamp, simply connect it to the speakers.
If the volume levels are high and the sound is crisp and clear, you certainly have one. Old record players have preamps installed by default.
Plus, there's a whole new generation of speakers that come with a built-in preamp so they could directly connect not only with the turntable but also computer, phone, or another device.
Audiophiles prefer to use a separate preamp as they believe that it increases the quality of the sound.
Music
Should you want to play music on any all-in-one music system, you'll have a variety of options to choose from.
Before, all those players were located on different devices, but now you can have them all in one place. The first crucial element is the record player itself.
Then, you have a CD and a cassette player located in the central part of the box.
Lastly, a radio is a must-have option as many users still appreciate listening to the radio every now and then.
Connectivity
When you need to connect additional speakers or your playlist to any turntable stereo systems, you should look for a USB port, AUX jack, and a headphone jack. Those three are especially important.
The USB is the most universal as you can transfer your MP3 files or play your music.
AUX comes in handy when you need more speaker strength, and you can use headphones when you want to experience music by yourself.


All-In-One Turntable FAQs
What are Good Speakers for a Turntable?
Choosing a good speaker is never an easy job. When you're looking to buy an all-in-one system, read their specifications carefully. Firstly, make sure that speakers have a decent dynamic range.
And secondly, always try them out with a song you know to check how accurate they can play it. Also, make sure your speakers are made from the right materials to ensure sound quality.
Wood is usually the best, but there's a lot to choose from with the right internal equipment.
What's the Best Way to Convert a Record to an MP3 File?
If you have a turntable with a USB port and an option to convert files, it will be a straightforward process. All you need to do is plug in your USB drive and start the process.
Afterward, you'll have an MP3 file, and you can use it on any device you want. It's also possible to save it directly to your computer or save it on a new CD on some devices.
What are Bookshelf Speakers?
Bookshelf speakers are typically smaller external speakers designed to extend the sound capabilities of all-in-one record players, or provide sound reproduction for standalone turntables.
Due to their design, bookshelf speakers have a significantly better quality of sound. They're usually placed on the shelves next to books, hence the name. They're typically purchased as a pair, and can be conveniently self-powered.


Who Wins The Best All-In-One Turntable Shootout?
After an enormous amount of research, we found all of these players among the best choices for multifunctional turntable systems.
Whether for one reason or another, they all made our A-list of the best all-in-one turntables systems available.
As the best overall choice, we'd have to go with the Victrola Navigator. It simply wraps up everything you could want in one nice, neat package at a reasonable price.
For those on a budget, you can't go wrong with the ION Mustang LP. At the very least, it makes a striking visual statement as a centerpiece for a blooming vinyl collection – though at the price point, the quality could be better.
If you have the funds to spare, our best premium pick goes to the Electrohome Kingston 7-in-1 due to the attention to detail with its hand crafted acoustically tuned cabinet, full features, and unparalleled functionality.
The final choice of course, is entirely up to you!
Final All-In-One Turntable Comparison
Best Choice

Victrola Navigator 8-in-1 Multimedia Center


Best Value

ION Mustang LP 4-in-1 Vinyl Turntable


Premium Pick

Electrohome Kingston 7-in-1 Vintage Vinyl Turntable


Overall Ease of Use

Overall Build Quality

Overall Sound Quality

Overall Value Factor