Easily choose the best record player for a great listening experience, and stay within a reasonable budget with our comprehensive buying guide.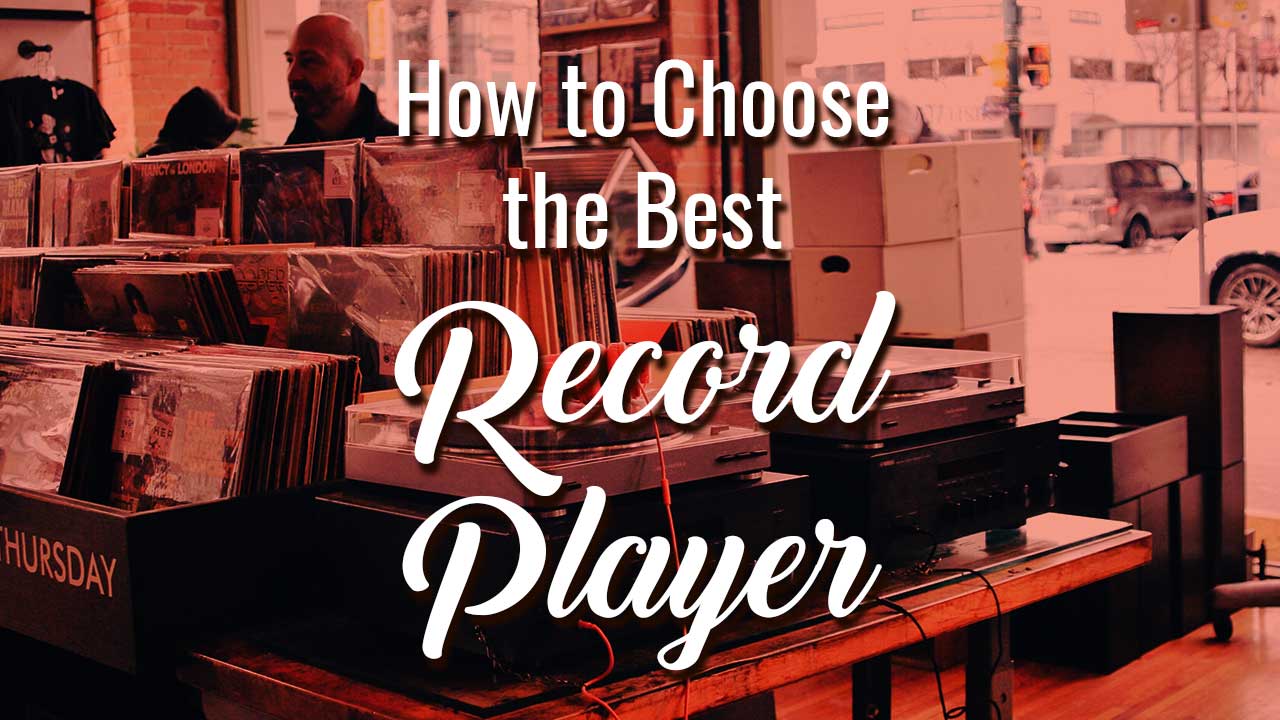 Finding The Best Record Player For The Money
Looking for a good quality vinyl record player at a great price? You're in luck – with vinyl record sales approaching 18 million units in 2018, the options for finding a good record player that fits your budget is easier than ever.
But you will need a buyer's guide to help you make an informed decision – right?
Lest have a quick look at some of our best record player options:
We certainly hope you benefit from the information we provide in this article! Just so you know, we may receive compensation if you use the links on this page. If you do, thank you so much!
Top 5 Best Record Players Comparison Chart

Product

Best Feature

Rating

TOP PICK!

1. Victrola Nostalgic Aviator Wood Turntable Entertainment Center

Everything you need in a record player straight out of the box wrapped up in one vintage-styled package.
(4.1 / 5)
View the Latest Deal!
Great sound for an all-in-one type of record player.
(4.1 / 5)
View the Latest Deal!

3. Victrola Nostalgic Classic Wood Turntable Entertainment Center

Simple to use with everything in one neat vintage retro package.
(3.7 / 5)
View the Latest Deal!
THE perfect turntable for beginner audiophiles starting a collection.
(4.4 / 5)
View the Latest Deal!
The best balance of price, features and portability.
(3.9 / 5)
View the Latest Deal!



The 5 Best Vinyl Record Players Reviewed

1. Victrola Nostalgic Aviator Wood 8-in-1 Bluetooth Turntable
The Victrola brand has been producing record players and other music equipment since 1906. Hence, they have been in the market for long enough to know what works and what customers want.
What we really like about Victrola products is that they have retained an old world look which exudes a distinct charm.

Read What Victrola Aviator 8-in-1 Users are Saying

So, it's more like new wine in an old bottle. While the mechanism and technology has evolved and become better with time, they have kept the old external design that is sure to make you nostalgic.
This is an 8-in-1 Bluetooth turntable which means you can enjoy music in eight different ways. It can play different sizes of vinyl records in three different speeds: 33 1/3, 45, 78 RPM. The Bluetooth feature enables users to stream music wirelessly at a range of 33 feet.
The music system also comes with a headphone jack and a 3.5mm aux-in to enable you to connect it to non-Bluetooth devices. You can operate the system using a fully functional remote control.
Features
Measures 12.1 x 20.4 x 12 inches
Weighs 2 lbs
Made from real wood
Three-speed Turntable
Built-in Bluetooth
Built-in CD player, Cassette player and AM/FM radio


Pros and Cons

Victrola Aviator 8-in-1 Review

What We Like
It boasts a nostalgic vintage design
Made from high quality material which results in better sound quality
Built-in stereo speakers and remote control to give you hands-free operation
The user can listen to music in three different ways
Bluetooth capability allows you to sync the music system to your smartphone or laptop
There's also a cable which enables you to connect the system to non-Bluetooth enabled devices
The package includes three bonus replacement needles, a 1GB USB drive and a cleaning cloth
Sound quality and balance is good
It makes a nice birthday or Christmas gift

What We Don't Like
The radio is sometimes difficult to tune to specific stations
The remote control does not have a power button, so you need to switch it on and off manually
The tonearm is too light which means it might skip tracks


What are Victrola Aviator Customers Saying? >>

Product Summary
If you are looking for a very solid and strong turntable that has a vintage look about it, then this product would definitely fit the bill.
Although it is slightly more expensive than competitors, we believe you get what you pay for, hence the price is good enough for high quality music.
With eight different ways to listen to your favorite music, we are sure this product is going to please the audiophile in you.



2. 1byone Belt-Drive 3-Speed Stereo Turntable
The compact form and sleek appearance of this 3-Speed Stereo Turntable from 1byone catches our attention. It is a welcome change from the classic versions of turntables that are expected to be bulky.
This record player is different. It has a vintage feel but it does not bulk up to make you feel nostalgic. In fact it's so compact and stylish that it takes less space on the table and you can carry it with you wherever you go.

Read What Customers are Saying About the 1byone Turntable >>

The record player boasts an attractive wooden appearance and it comes with a transparent protective cover to keep vinyl records dust-free. The front panel has simple playback controls that are easy for even a novice to understand.
The turntable enables you to convert vinyl recordings into an MP3 format to be played later on your PC or smart devices. So, all those unused, favorite numbers can now be brought back to life.
Features
Measures 13 x 11.8 x 5 inches
Weighs 5 pounds
Protective dust cover
3 selectable RPM speeds
Vinyl to MP3 Recording
5 watt Full-Stereo Speakers


Pros and Cons

1byone Belt-Drive 3-Speed Turntable Review

What We Like
The turntable boasts a sleek and compact form
It has a beautiful design and an attractive wooden finish
It is easy to set up and use with simple controls
It comes with a protective casing to keep dust away from getting into the platter
It can be easily connected to a home sound system for amplified music
Users can convert their favorite music from vinyl records into MP3 format
The product comes with a 12-month replacement guarantee
The sound quality and balance is good
The customer service is helpful, quick and friendly

What We Don't Like
The record stops playing 5 seconds before the song is complete
It has a limited frequency range


What Do 1byone Turntable Owners Think? >>

Product Summary
The 1byone Belt-Drive 3-Speed Stereo Turntable has everything you look for in the best record player. However it lacks in terms of frequency range, particularly in the bass and treble ends.
We're impressed by the customer service offered by the company which is quick and responsive. You can easily get a replacement for a defective piece which makes your purchase risk-free.
Overall, we feel this product is not the perfect choice for audiophiles; however, if you want a decent turntable at a reasonable price, this is a good deal.

3. Victrola Nostalgic Classic Wood 6-in-1 Bluetooth Turntable
This 6-in-1 Bluetooth Turntable comes from the Victrola brand. This 110-year-old brand has an extensive line of nostalgic record players and audio equipment. The turntable in review is one of their premier products and it offers a perfect blend of vintage style and advanced technology.
Read the Latest Victrola Nostalgic Latest Reviews

The outer design of the turntable has a retro feel to it and we love the wooden finish which makes it all the more classic.
This attractive record player offers good value for money as the users get to enjoy music in six different ways. It can play vinyl records of different sizes as the product features three speed options – 33 1/3, 45, 78 revolutions per minute (RPM).
The turntable comes with full range built-in speakers and the player is Bluetooth-enabled, allowing you to play your favorite music directly from a smartphone.
Thus, it gives you an amazing hands-free music listening experience. The product comes with a 3.5mm cable to connect the turntable with non-Bluetooth devices.
Features
Measures 12.2 x 20.67 x 15.75 inches
Weighs 17.6 lbs
Three-speed turntable
Built-in Bluetooth
Built-in Cassette Player, CD Player and FM Radio
Built-in stereo speakers
5mm cable included


Pros and Cons

Victrola Nostalgic Bluetooth Turntable Review

What We Like
The turntable comes in a good package
The sound quality is good but not very loud
It has a classic wooden appearance and nostalgic feel about it
Users can enjoy music in six different ways which is great
The CD player, cassette player and FM radio work as expected
You can listen to your favorite songs by syncing it to your smartphone
You can now listen to all those old record collections
It would be great for a birthday or Christmas gift
The price point is really good
The record player is pretty easy to set up and use

What We Don't Like
Customer support is not easily reachable
Cassette player only has a forward function, no reverse
Slightly bulky, hence not portable


Are Victrola Nostalgic Customers Happy? >>

Product Summary
The Victrola Nostalgic classic wood 6-in-1 Bluetooth is thoughtfully made and it perfectly replicates that old world look. Despite the vintage design, it includes all the modern features and technology to give you an amazing musical experience.
The sound quality is good, but if you really want music that to bang your head to, then you will need to add external stereo speakers. Overall, we love the design and functionality of this product.

4. Audio-Technica AT-LP120-USB Direct-Drive Professional Turntable
The Audio-Technica AT-LP120-USB is a professional turntable that boasts a sophisticated and modern design. It has shed off the old world look and embraced a modern avatar which looks appealing in its own unique way. We really like the super sleek and compact form which makes the system highly portable.

Click Here for Audio-Technica AT-LP120-USB Turntable User Reviews

Whether you want to play indoors or take it with you wherever you go, the turntable is lightweight and a lot of fun.
The record player comes with a transparent dust cover to protect the vinyl records and platter when not in use. It features a high torque, direct-drive motor which helps to connect the device to your PC with ease. There are three selectable speed options, 33-1/3, 45, and 78 rpm rotational speeds.
The product features an S-shaped tone arm that aids in adjusting the height and lock. The anti-skid base ensures that it has a strong grip wherever you place the music system.
Features
Measures 6 x 13.88 x 17.75 inches
Weighs 23.5 lbs
Three speeds 33/45/78
Fully manual operation
Powered by a DC motor
High-torque motor


Pros and Cons

Audio-Technica AT-LP120-USB Turntable Review

What We Like
It boasts an attractive and contemporary design
It comes with a transparent dust cover to protect the platter
The turntable platter is made from die-cast aluminum
It has a heavy duty construction
It supports three different speeds for different sizes of records
The music system can be connected to Mac or Windows using a USB connector
It enables users to convert vinyl records into digital audio files
It comes with a user manual with detailed instructions

What We Don't Like
There are no internal speakers
It is slightly more expensive that competitor products


What Do Audio-Technica Customers Think? >>

Product Summary
The Audio-Technica AT-LP120 is a professional turntable that boasts a stylish and contemporary look. It comes loaded with features to give users an amazing experience.
However, it does not come with internal speakers so you may need to add them separately. Overall, we feel this is a well-made product, although it is slightly on the expensive side.

5. CMC Portable Bluetooth 3 Speed Stereo Turntable with Built in Speakers
The CMC Portable turntable has 'portable' in its name so you can understand that users can take it with them wherever they go. It sports a classic design that gives a distinct old world charm to it.
Although the record player is made from lightweight material to make it easy to transport, the manufacturer has retained the quality.

Read What Users are Saying About the CMC Portable Bluetooth 3 Speed Turntable >>

The briefcase styled turntable has a compact form which means it does not take up a lot of space and can be stored easily when not in use.
There are built-in speakers that deliver good sound quality. This classic turntable has three different selectable speeds to play: 7″, 10″ & 12″ records. The record player is Bluetooth, SD card input and USB compatible so you can listen to the music on other devices too.
Features
Measures 13.8 x 10 x 4.4 inches
Weighs 7.2 pounds
Made from lightweight material
Bluetooth supported
Three selectable speed (33/45/78rpm)
Built-in stereo speakers
Aux in and 3.5mm headphone Jack


Pros and Cons

CMC Portable Bluetooth 3 Speed Turntable Review

What We Like
The briefcase style makes the turntable more portable
The three selectable speeds allow you to play vinyl records of three different sizes
It comes with built-in speakers that produce decent sound
It has Bluetooth capability so you can sync it with your mobile devices
The customer service is friendly and helpful
It is easy to use with simple options
The user manual contains instructions on how to use the turntable
Bass and treble can be adjusted easily

What We Don't Like
Small capacity, does not work well for large rooms
The speaker sound is not loud


Read the Latest CMC Turntable Reviews! >>

Product Summary
The CMC Portable3 Stereo Speed Turntable is a well-constructed record player and we really like the briefcase style which makes it easy to carry.
The built-in speakers are good, but not loud enough so you may need external speakers. We wouldn't say that this record player is the best available in the market but it definitely offers good value for money.




Buying A Record Player – What To Look For In A Good Quality Vinyl Turntable

First, Why Even Consider a Vinyl Record Player or Turntable?
A record player is more than a little unique. The way it sounds, the ambience it invokes, the dinner plate sized vinyl records, the needle, and so forth. There's something so special about this record playing experience.
After being dominated by cassettes, CDs, MP3s, Minidiscs, and Spotify for several years, vinyl records are back and for good. Record players, turntables or decks (they are all the same thing) are not a hipster craze anymore. They signify a cultural zeitgeist and are here to stay.
Records have been thought of as being from a time of old for some time now. When many people think of them, other things that spring to mind include black and white movies, drive-in theaters, and other facets of our culture that have been left in the past.
It's part of how life works and time progresses, really. Perhaps you've heard the saying, "Out with the old, in with the new."
Plenty of perfectly functional, even incredible technology is all-too often left behind in the wake of newer, and not necessarily more innovative, technologies. Is the record player a prime example of this? Perhaps.
Whether simply for its vintage and old-timey feel, or for the superiority of the sound that records produce, record players and turntables are making a well-deserved comeback!

The Return of Vinyl

Audiophiles and collectors alike are flocking to high-quality record players and turntables for their vintage style, superior sound, classic look, and so much more.
Once a commonly found item in so many households, in the modern day, record players are something that you expect only to find in the home of a collector, a history buff, or someone truly passionate about their music choices.
Manufacturers have also acknowledged the rising demand for vinyl record players. As a result, several new models featuring vintage design and sophisticated technology have been released to the market.
The turntables come in different shapes, sizes and budgets. They can range from below $100 to those that cost a few thousand dollars.


But fortunately, today, they're becoming a more and more common thing to find. While still not an everyday item in most households, turntables and record players are starting to become purchased in greater numbers. Hopefully they'll once again resume their much-deserved place of popularity among the masses!

Does Vinyl Really Sound Better?

There's just something magical about a record player – from its sound, to the nostalgia it introduces to a room, to the large and classic-looking vinyl records they play, the precision of the needle, and so much more.
Something about listening to a vinyl record makes for a special and intimate experience.
The music industry has been dominated by cassette tapes, CDs, then MP3s and Minidiscs, and now music services like Spotify hold the spotlight.
But nothing has made a return to the stage like vinyl – and it's looking like it might be here to stay! Not just for that hipster kid down your block, record players are something for everyone to enjoy nowadays!
Remember what we said earlier about new technology being so quick to replace the old? Today, thanks to the return of the record player's popularity, new technologies are being made to support this medium!
While record antique record players are still around and some are still being created in the vintage style, some manufacturers are using the technology and creating more modern versions of the traditional record player.
If you want the latest and greatest when it comes to sophisticated technology, that doesn't mean you need to count turntables out of the game!

Subtleties of Record Players and Turntables

There are many subtleties of record players and turntables that make them loved by such wide varieties of people from all walks of life! So long as you like music, record players have something to offer for you.
Attractive to those who like antique or vintage styles, history, nostalgia, preservation, great sound, or the arts, turntables are a versatile and unique solution for everyone from audiophiles to history buffs!
These subtleties include everything from the delicate needle, their great sound, classic look, even the record albums themselves.
Albums are a huge part of the listening experience as they provide an amazing tactile and visual experience that combine to complete the whole musical journey.
There are some passionate music lovers who won't settle for anything less than a high-end record player which may cost a fortune.
Thankfully, you don't have to do that. For the rest, there are many record players in the market that produce decent sound and are reasonably priced. In this buying guide we will tell you about the five things you should consider when buying the best record player.
Once you've experienced what it's like to listen to music on vinyl it's hard to go back. You enjoy the look and feel of a record player, plus you have a personalized catalogue of hand picked albums.


The Perks of Modern Record Players

Many people who choose to add a record player to their music collection do so because they enjoy the antique look and vintage feel of listening to music on vinyl. But that doesn't mean that records aren't for you if you like modern music!
As we mentioned earlier, many turntables today are being made to reflect modern trends – even incorporating new technologies.
Newer turntables have been made with:
Cassette tape players
CD players
Bluetooth connectivity
USB capability
MP3 capability
Multiple auxiliary connections
and more!
Clearly turntables aren't a barrier to listening to other modern formats of music. But what if you want to listen to modern tunes on vinyl? No problem! Plenty of new and modern artists have caught on to the return of the record player trend and are taking advantage of it!
This means that you can get plenty of your favorite artists' music on vinyl! This includes popular bands and artists like Paramore, Katy Perry, Taylor Swift, Daft Punk, Lorde, Chvrches, Justin Timberlake, One Direction, Adele, Bruno Mars, and of course many many more!
The artists choosing to have their music released on vinyl aren't restricted to only one genre, either. You'll find that artists across all genres are releasing records. You can buy them at just about any other place that you're able to buy music!
With all these new developments in the record industry, you'll find that record players and vinyl are just as modern a method of listening to music as they ever were!


5 Things to Look for When Buying the Best Vinyl Record Player or Turntable

Manual vs. Automatic: You will most find two main options when buying a turntable – automatic and manual, and sometimes a third one – semi automatic. In a manual system you need to lift the tonearm and place it on the groove and this happens automatically with the push of a button in an automatic system.In a semi-automatic record player, you manually place the needle on the groove but it is lifted off automatically when the record comes to an end.
You get what you pay for: There are retro-styled budget turntables available for under $100. While these plastic-made turntables are enough to play your old record collection, the sound quality will not be great.If you want a richer and warmer tone, then you will need to shell out some more money.
Rotational Speeds: The average record player can play one or two different rotational speeds which are measured in RPM (revolutions per minute). The 7-inch records known as singles are played at 45 RPM and the 12-inch records known as albums are played at 45 RPM.These are standard speeds supported by most turntables.There are a few turntables that have a three-speed support of 78 RPM. These are used for 10-inch records that have wider grooves.
Are the parts upgradable: Entry level record players are usually basic and ready to play right out of the box. However, high end turntables are upgradable, and you may add additional components to increase their effectiveness.
Digitalizing your vinyl record collection: When buying a record player, you need to find out whether you want a full analog player with an exclusive digital music collection or one with a built-in USB port that can be used for digitalizing your vinyl records.The USB port also allows you to convert and play MP3s in real-time.

Consider Your Own Needs

What works for one person doesn't necessarily work for the next, we all have different priorities. Still, the process of choosing the right record player is part of the fun – and we're here to help ensure you make a great choice.
Maybe you want to find the best portable record player, or maybe you like to crank it up loud and need to find a turntable system with better speakers.
Or perhaps the convenience of connectivity is a priority for you, either through USB capability or Bluetooth technology. Whatever your particular needs, you'll find a system here to help you enjoy the vinyl experience in no time.
Once you've decided that you're ready to be the proud owner of a new record player, the next step is to start clicking around our site to help find the option that's best for you!
To help you along, we've created a list of the five best record players with their features, pros, and cons to help you choose the one that suits your requirements:

Final Verdict: Our Top Choice for the Best Vinyl Player
While all of the above vinyl record players are good in their own way, we recommend the Victrola Aviator Record Player for its exquisite detailing and awesome features designed to awe the music lover in you.
After years of being overshadowed by contemporary musical formats, good old vinyl is still standing strong. It just goes to show that the rich sound and texture of an album cut into the groves of a platter cannot be beaten.

EDITOR"S PICK
Check Victrola Aviator Availability Here! >>

Overall Average Build Quality

Overall Average Sound Quality

Overall Average Value Factor
Summary
Overall Average Score: