In this expert buying guide, we'll provide answers to a few very important questions that help you find the best choice in a turntable for beginners, and understand what makes vinyl so attractive to begin with.

Top 5 Beginner Turntables Compared:
| | | | |
| --- | --- | --- | --- |
| Product | Best Feature | Rating | |
| BEST OVERALL PICK!! | Everything you need in a beginner turntable in one vintage-styled package. | (4 / 5) | View the Latest Deal! |
| BEST BUDGET PICK! | On a budget? This is the turntable for you. | (3.3 / 5) | View the Latest Deal! |
| BEST STANDALONE! | Don't need speakers? You can't go wrong with the Fluance RT81. | (4.6 / 5) | View the Latest Deal! |
| | A perfect turntable for beginner audiophiles starting a collection. | (4.2 / 5) | View the Latest Deal! |
| | The best deal you'll find in a standalone turntable. | (4.5 / 5) | View the Latest Deal! |

What makes a good turntable for beginners? Read this first.
Over the last few years, the resurgence of vinyl has gained some serious ground. It's hardly surprising, since vinyl offers a better listening experience than CDs. It's all to do with the way the recordings work.
Digital recordings, contrary to popular belief, are not complete. They record in cycles and, as a result, miss some of the sounds. This is not an issue for digital music because the computer can fill in the blanks.
Analog recordings, on the other hand, record everything from start to finish. They are also able to pick up all the nuanced areas of a tune that the digital recorder might miss. You can read more about the process directly at How Stuff Works.
If you love getting the full music experience during a concert, you'll probably also prefer vinyl to CDs. The question for the new vinyl enthusiast then becomes where to start. Here are some questions that this article addresses.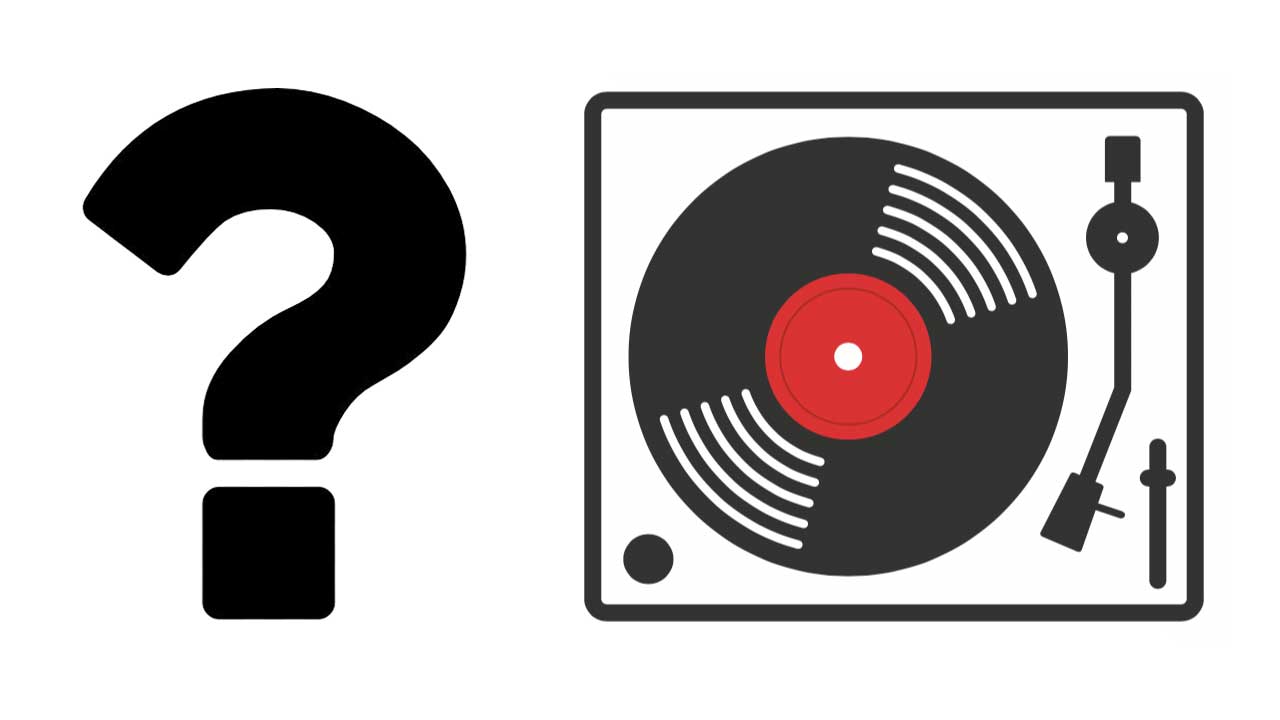 What is the best beginner turntable out there?
Do I have to spend a lot of money, or can I get away with a more inexpensive model?
Do I get a dedicated record player, or do I get one that has a CD player built-in?
Should I get a model with built-in speakers or buy speakers separately?
Which brand offers the best turntables for beginners?
We're going to answer those questions and a few more besides. We'll also review a few good starter models to help you in your search for the best beginner record player. First, let's start with some basics.
We certainly hope you benefit from the information we provide in this article! Just so you know, we may receive compensation if you use the links on this page. If you do, thank you so much!



Our Top Five Beginner Turntable Reviews

1. Best Overall Turntable for Beginners: Crosley CR704C-PA Musician Turntable
If you're into vintage models, this is going to impress. Unlike other "vintage" players, the LCD panel and buttons on this player are rather nondescript. If you look over at it from the opposite side of the room, you could easily imagine yourself being transported back in time to the forties.
The Crosley Musician Turntable is simple to use, and you have a choice of what media you would like to play. Still, have some cassettes knocking around from the eighties?
No problem: go and get your Wham on or walk like an Egyptian. Got some records that your dad loved back in the day? This player will manage those as well.


You can even fast-forward back to modern times and play a CD or MP3. The ability to play across many different media is an advantage if you're not sure vinyl is for you or if you haven't built up a large collection yet.
How this model sets itself apart is that it has a programmable memory. All in all, this is a good starter model. It's not going to measure up for the true audiophile, and you'll probably want to upgrade later, but it isn't bad to start with.


Pros and Cons

Crosley CR704C-PA Musician Turntable Review

What We Like
Plug for your MP3 player or phone
Three-speed player, so all vinyl should work
Cassette player
CD player
AM/FM radio
20-track programmable memory
Speakers installed
Jack for other devices or headphones
Extremely good looking
Not badly priced
Great entry-level model

What We Don't Like
With all those extraneous features, the sound quality is bound to suffer
Built-in speakers are adequate but not fantastic
No Bluetooth

Are Crosley CR704C-PA Customers Happy? >>



Click Here to Check Crosley Musician Availability >>




2. Best Budget Record Player: Crosley CR8005C-GR Cruiser II
This model transports you back to the flower-power sixties era. It comes in a range of funky colors and closes up to a nice, compact size no bigger than a briefcase. It can be operated using electricity with the provided adaptor or using 6 AA batteries (not included).
If you love your vinyl, you'll love the freedom that you get from this model. The sound is not perfect – that's a tradeoff you need for portability. That said, it does relay sound well, and you can always connect it to your headphones or a better set of speakers.


The Crosley Cruiser II ideal if you want to bust some jams at a party. Additionally, the arm does not have an auto return feature, which makes it ideal for an aspiring DJ to get some practice on.
Overall, the performance is okay. If you're a serious audiophile with some experience in playing vinyl, this model is not likely to do much for you. For the beginner, though it is perfect. It is simple to set-up and operate, and you can also plug in your MP3 player or phone if you don't have a lot of vinyl.


Pros and Cons

Crosley CR8005C-GR Cruiser II Review

What We Like
Reasonably priced
Three-speed player
Can run on electricity with the adaptor provided
Can also be run on batteries
Has speakers built in
Has a jack for your earphones
RCA jack allows you to plug it into your standard stereo system
Portable
Funky colors available
Compact
One-year warranty against manufacturer's defects
If bought through Amazon, you can extend the warranty
Good for entry-level

What We Don't Like
Sound is on the softer side
More advanced users are unlikely to enjoy this model
Few customization options available
Arm has to be operated manually


What Do Crosley Cruiser II Owners Think? >>


Click Here for Cruiser User Reviews >>



3. Best Standalone Turntable: Fluance RT81
There is a lot going for this model aside from the affordable pricing. For starters, the Fluance RT81 has used a high-performance cartridge from Audio Technica. It is diamond-tipped to ensure that every groove in the record is followed perfectly. There is, therefore, a lot lower chance of skating or skipping.
Another thing that makes this ideal for those just starting out is the preamp built-in to the design. This makes it possible to connect directly to your amp and to still provide the kind of powerful signal that the amp requires.
As you get further along your journey as an audiophile, you'll probably want to change things up a bit. The preamp can be switched on or bypassed, as you please.


This model is belt-driven, which automatically makes it more stable. The belt does not have to be adjusted when you change speeds, making it more convenient than your standard belt-driven model.
The base is completely solid wood to ensure that vibrations are kept to a minimum. In addition, the company has installed isolation feet for the same reason. The heavier aluminum platter takes care of any vibrations that might still be lurking about.
There is one significant negative that might impact your decision about whether or not this is the right choice for you. Several users have complained that it cannot maintain a stable speed over longer periods of play.
If you're just going to listen to a short album, this won't be an issue. If you like to sit and listen to your music all evening, however, it could very well be annoying.


Pros and Cons

Fluance RT81 Turntable Review

What We Like
Good price
Sound quality is surprisingly good
Good build and finished well
Belt-driven
Good at suppressing vibrations
Runs two speeds
Stable
Good quality cartridge provide
Can be upgraded easily
Available in glossy piano black or wood-like finish

What We Don't Like
Not always able to maintain a consistent speed during longer sessions
Audiophiles might want to bypass the built-in preamp


Read the Latest Fluance RT81 Reviews Here! >>







4. Audio-Technica AT-LP60
The Audio-Technica turntable has sleek lines and an uncluttered surface. It's fairly compact, sporting a brushed steel finish that will allow it to blend in with almost any décor. Though simple in presentation,
it's a high-performance model that provides new turntable users with a taste of what an amazing player can do.
The company is known as being one of the top brands in this industry with a range of products for even the most discerning audiophiles. This player is part of their budget range, so as a no-frills option, is perfectly suited to those looking for a great beginner turntable without complicated or unnecessary extras.


They've put their money to where it will do the most good – in the production of sound.
This system is easy to set up and even easier to operate. There is no need to worry about setting the right speed or positioning the needle in exactly the right spot. The machine will take care of all of that for you. If you're a beginner, this is the perfect model to start with.
The AT-LP60 includes a preamp to allow connections to your existing external power amp or powered speakers.
What really sets this set apart from competitors is it's extremely reasonable price. Most similarly featured turntables start at around $300, without the speakers. To get a good, brand-name package like this one under that price point is a real steal.
Solidly constructed with no bits that scream, "I'm cheap", it 's a well-finished unit and carefully made.


Pros and Cons

Audio-Technica AT-LP60 Review

What We Like
Brilliant price
Award-winning speakers included
Simple to set up
Easy to operate
Excellent value for money
Speakers can be used with other sound equipment as well
High-quality, easily replaceable cartridge – at least 400 hours of sound
Belt-driven for fewer vibrations
Solid, vibration-dampening platform

What We Don't Like
Few opportunities for customization or tweaking because everything is automatic
Not an ideal set for a DJ


Are Audio-Technica AT-LP60 Customers Happy? >>



Read the Latest AT-LP60 Customer Reviews >>




5. Crosley C200A Turntable
This great little machine will allow you to boast to your friends that you have a "warp drive" at home. In this case, that simply means that your records are brought up to the correct speed quickly and easily, but no one needs to let that secret out the bag.
The Audio-Technica cartridge used here ensures that the system is properly balanced. You can easily swap out the cartridges when you want to amp up the performance. If you do, you can tweak the balance through a truly simple adjustment of the counterweights.


Simple and elegant are good ways to describe the looks of this the Crosley C200A. It's probably not going to turn heads at an exhibition, since it's designed to blend it.
It has a glossy finish that will make it an asset to any minimalist design décor but not look out of place in a more relaxed setting either.
This is a highly functional entry-level model, so if you are something of a gadget freak, it's probably not going to seem very impressive. The functions are limited to the most basic, but this results in a clean, uncluttered surface.
It also means that operating it becomes a whole lot simpler. You don't have to worry about adjusting the base, etc. This is great news for a newbie, but might be less welcome news for the more advanced user.
Still, it's not strictly a beginner's only model, because there are upgrades that you can make. For example, you could change out the cartridge in favor of a better one.


Pros and Cons

Crosley C200A-BK Turntable Review

What We Like
Excellent price
Good performance
Some customization is possible
Easy to use
Focused on producing better sound rather than putting in a bunch of extra features

What We Don't Like
No separate speakers
Unclear instructions make set-up reasonably complicated


What are Crosley C200A Customers Saying? >>



Read the Latest Customer Reviews Here >>

Also Read: Crosley C200A-BK Direct Drive Turntable with S-Shaped Tone Arm Review

How does a turntable work?
Here we'll cover this very basically, but for a more in-depth explanation, check out our article on how a record player works. Essentially, though, a turntable consists of a base that holds the player's mechanical parts, a platter to turn the record, and an arm to "read" the grooves of the record, translating them into sound.


To use a turntable, you move the arm out of the way, lower the record onto the platter, and reposition the arm into the groove on the record. Some models automatically place the arm for you when you switch the machine on.
When you hit the play button, the drive in the base will turn the platter and the record along with it. The needle is then dragged across the grooves in the record. If the player maintains the right speed and the base is stable enough to minimize vibration, the sound will be good.

How much maintenance do I need to do?
There is surprisingly little maintenance required, considering that these are pretty complex machines. The main thing you have to worry about is dirt on the records or on the stylus itself. This can cause distortions when the sound is played back.
For best results, dust off any record carefully after three or four uses. Find out what the manufacturer recommends in terms of cleaning the stylus. You will either need to use some form of cleaning medium or a brush designed for the purpose.
How often you clean the stylus will depend on how much music you listen to. For a moderate to heavy user, it is a good idea to clean the needle on a weekly basis.
Finally, the stylus is not going to last forever. There are a lot of factors that impact the longevity of the needle – dirt is one that will reduce it. No matter how carefully you clean it, though, the needle will wear down eventually. You should bank on replacing it after every 500 hours of music played to be on the safe side.

What maintenance accessories do I need?

Do I need a preamp for my turntable?
That depends on whether your turntable has speakers included and also what kind of speakers you will be plugging it into. A preamp helps to boost the signal clearly and cleanly, so it can be useful when the turntable plays more softly.
Some turntables have a built-in preamp to simplify things. Those with speakers built in will not usually also have a preamp.
You won't usually need a preamp, but expect to sacrifice a little in terms of sound volume. If the speakers that you are going to play the sound through are powered though, you will need to use a preamp as well. The same is true when plugging into an amp.

What preamps and speakers should I look at?
Here's a quick look at some of our top recommended preamps and speakers:

How do I connect my turntable to my receiver?
This depends on the make and model of player that you have. Our best advice is to carefully consult the instruction manual that came with your model to make sure that you get it exactly right. If the instructions aren't all that clear, you can often find YouTube videos to help you out. If that fails, call up the manufacturer and ask for their advice.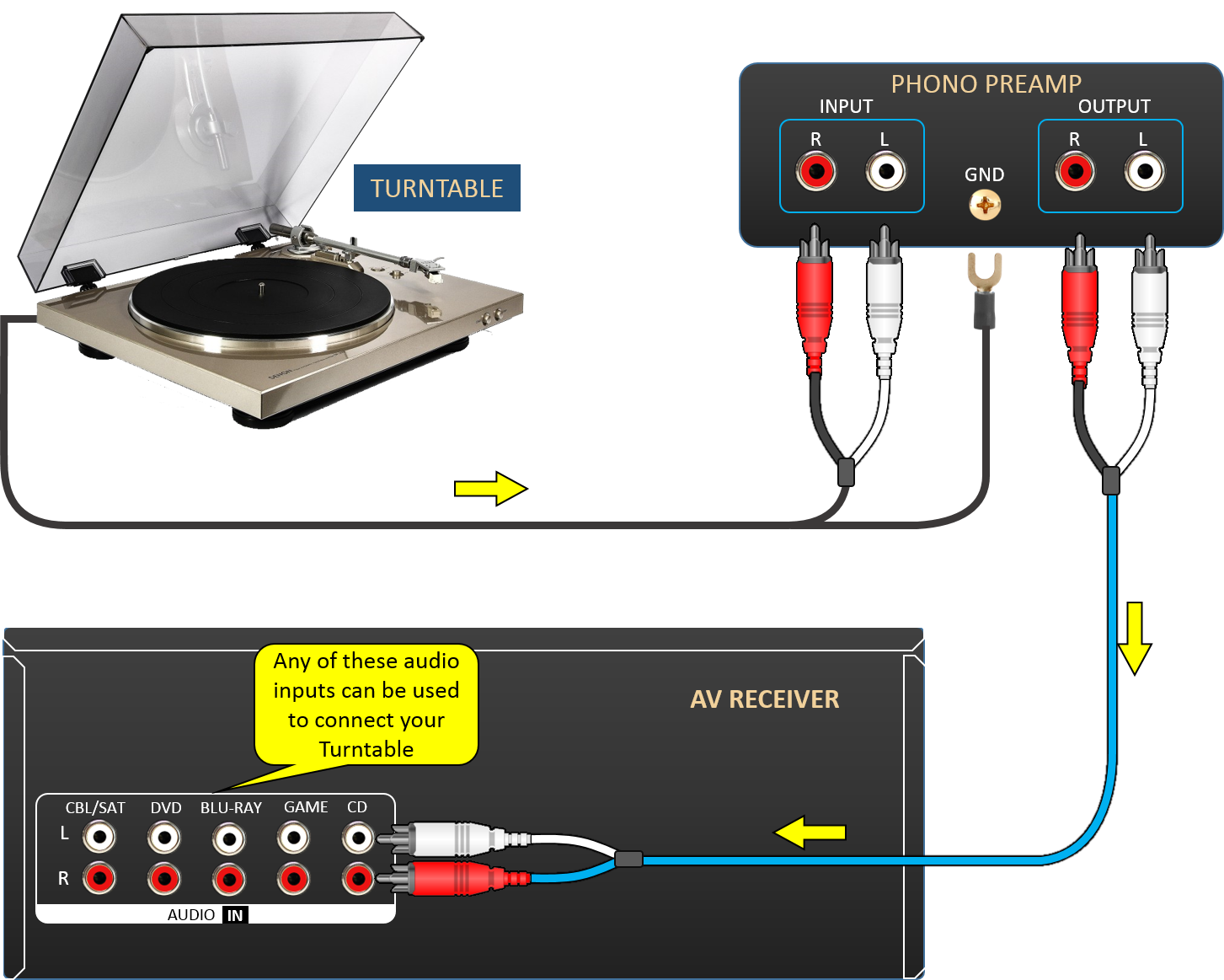 Conclusion: What's the Best Beginner Record Player for You?
Which is the best option for you? That will depend on how much vinyl you plan to listen to. If you're only going to buy a few records, it makes sense to consider a multi-functional machine that will play other media as well.
If, on the other hand, you already have an extensive music collection on vinyl, it makes sense to have a dedicated player. It pays to remember that, for every feature added, something else has to be sacrificed. If this wasn't the case, we'd have record players taking up a lot more space.

Review Our Top Picks:
Best Overall Turntable

Best Budget Record Player

Best Standalone Turntable

Overall Average Build Quality

Overall Average Quality

Overall Average Factor
Summary
Overall Average Score:
Normally, when it comes to making a portable player, this means that some sound quality needs to be sacrificed. Built-in speakers are a nice to have, but they do have their limits.
If you're expecting the same kind of performance you'd get from a top-end stereo system, you're going to feel let down.
What we recommend before making your final decision is to figure out what you really want out of the experience. A dedicated model without speakers built into it is bound to offer far better performance than an all-in-one model with a CD player, cassette player, speakers, etc.
You'll need to weigh what is most important to you and then go forward from there.