Is the Crosley C200A-BK the right value for what you're looking for? In our review, we look at the qualities of this potentially perfect turntable.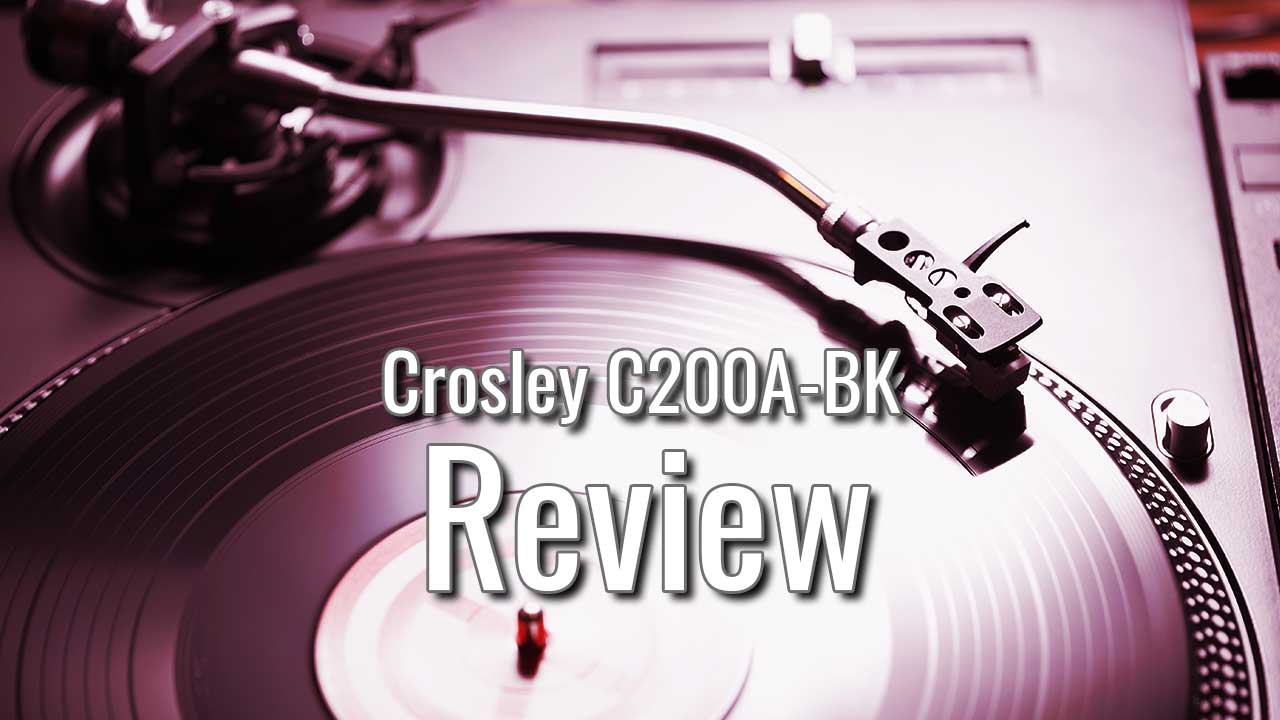 Crosley C200A Review – Read About This Mid-Level Turntable Before Buying
The Crosley C200A at a glance:




CDs reproduce sound well, but they are never able to create the full, rich sound that you get from vinyl. Who keeps their old record player anymore nowadays?
For many of us, switching over to a banging sound system meant turfing the record player and replacing it with, first, a slick CD player, then a streaming service.
Record players have become big news over the last few years, and you can get plenty that don't look out of place in a modern setting. For someone starting a fresh vinyl collection, you can't go wrong with one of the best turntables for beginners such as the Crosley C200A.



We certainly hope you benefit from the information we provide in this article! Just so you know, we may receive compensation if you use the links on this page. If you do, thank you so much!

The C200A Turntable by Crosley
The Crosley C200A-BK in Review. This Crosley turntable has everything that you need to play every old-school vinyl you can think of, and a good few modern ones as well. It's simple to operate, performs well and doesn't come with a range of "useful" features you'll never use.



Crosley is a company known for its no-nonsense design and utilitarian products. This model was created to allow home users the chance to hear great music without breaking the bank.
As an interesting aside, the name Crosley is taken from a 1920s radio personality, Powel Crosley.
Mr. Powel Crosley was famous for creating a radio station for everyone to listen to. The company aims to make good music accessible to everyone in tribute to the person whose name they have taken.
The Crosley C200A-BK Direct Drive is a very simple turntable perfect for playing old school records. What we really like here is that it comes at a good price and can be plugged into your current stereo system quite easily.
It's also excellent for DJs because the arm doesn't automatically return to the starting position when the record is finished playing. If you're busting some sweet jams, you get to be in complete control with this model.

Warp Drive
Being the only device outside of the Federation to feature warp drive makes this pretty special. This warp drive won't power a starship, but it is perfect for bringing your records up to the right speed as smoothly and quickly as possible. This makes it perfect for quick changeouts when you're DJing.

Perfect Balance
The Audio-Technica magnetic cartridge has been incorporated here to ensure that the system is perfectly balanced. If you like, you can switch things up by changing this cartridge. The adjustable counterweights attached to the tonearm make it possible to fine tune your system perfectly.



Sleek, Elegant Lines
If you're a techno-freak that wants to be able to adjust every single feature of the turntable and needs endless arrays of buttons, this probably won't be the right fit for you. The operation of it is simple, and the design has been kept sleek and elegant by omitting extraneous buttons and settings.
Play with the lid on or off, and close up and store when not in use. It takes up barely any space at all, with just enough features to make for an awesome listening experience.


The results are great – this turntable puts out a lot of sound and offers a reliable performance every time. Whether you just want to chill and listen to your favorite music or bust a few beats yourself, you'll have everything that you need here. It's this simple operation and amazing sound that make it better than similar products in the same price range.
The turntable is guaranteed free of manufacturer's defects for a year after being purchased. The company has built a name for offering excellent customer service in this regard.



Pros and Cons


Crosley C200A Direct Drive Turntable Review


What We Like
Good price
Excellent performance
Customizable to a degree
Simple to operate
Features are focused on giving you the best listening experience

What We Don't Like
Doesn't come with speakers
Set-up instructions are a little difficult to follow






Frequently Asked Questions:

How does the Crosley C200A-BK sound?
Thanks in part to the Audio-Technica cartridge, the sound is a lot better than you'd expect considering the price of this model. It produces a clear sound, free of scratches and interference.

What's the C200A build quality like?
This turntable has been crafted to last. It's solidly built and stable.

Compare these featured turntables:



Conclusion: Is the Crosley C200A Turntable a Good Deal?
Overall, the Crosley C200A Direct Drive Turntable is a hard worker. It will play both 33s and 45s to perfection. There are aspects that can be customized if you prefer. The price is most certainly right, and the year-long warranty can lend you extra peace of mind.
This will be a good fit for you if you want a simple, and clean operating system. This is probably not the right option for you if you love extra features, buttons, and knobs.
If your budget doesn't quite stretch that far, though, you can check out these turntables under $100.



What Do Crosley C200A Direct Drive Turntable Customers Think? >>

Build Quality

Sound Quality

Value Factor
---
Manufacturer Info:
Website: http://www.crosleyradio.com/
About: Our first turntable was released in 1992, when CDs were still king. Naturally, everyone thought they were nuts. But now, after over 30 years of bringing stylish music to the people, Crosley is one of the biggest manufacturers and trendsetters of the new-millennium Vinyl Resurgence.