The popular Fluance RT85 Reference Turntable may be loaded with great features, but is it the right turntable for you? Read our expert review to find out!
We certainly hope you benefit from the information we provide in this article! Just so you know, we may receive compensation if you use the links on this page. If you do, thank you so much!

The Fluance RT85 Reference Turntable In Review: Analog Performance With A Modern Look



Fluance RT85 Reference High Fidelity Turntable with Ortofon 2M Blue Cartridge

Fluance RT85 ratings at a Glance:
EASE OF USE

4.7 / 5

Ultra stripped down features easy for all to use

BUILD QUALITY

4.8 / 5

Low profile design and rugged construction

SOUND QUALITY

4.8 / 5

No extraneous noise and impressive sound quality

VALUE FOR MONEY

4.6 / 5

Expensive by comparison but for good reason

Overview: Meet The Fluance RT85 Reference Turntable
When picking out a Turntable, it's always important to know what you're looking for first. Do you want a versatile, all-in-one sound system?
Or are you just missing a record player or turntable from your audio collection? Fluance's RT85 is a great option to those in the latter category.



The sleek, modern take on the classic turntable mixes pure analog tone with simple, easy to use controls. The RT85 from Fluance is a low profile turntable with a built-in dust cover, and belt-driven functionality.
Packing in reliable, brand name features, the Fluance company has put together a high quality, compact turntable without surpassing the upper boundary of most budgets.



More on the Fluance RT85 Reference High Fidelity Vinyl Turntable
Fluance's RT85 is a turntable through and through. There's no wifi or bluetooth connect-ability here, just an analog, belt-driven turntable. This turntable certainly doesn't have the long list of audio features that some competitors do.
But on the other hand, Fluance has built a turntable with supreme sound quality and functionality. Everything from reducing micro vibrations to fine speed control is taken into consideration here.



Who Is The Fluance RT85 Best Suited For?
As stated above, this lovely turntable fits a very specific need for audiophiles. With no built-in speakers or bluetooth connectability, this isn't the most dorm room friendly option on the market.
Furthermore, features like a CD drive or cassette deck prevent this from being your all-in-one audio entertainment system. Fluance's RT85 Reference Turntable is really best suited for music lovers who need a turntable and nothing more.
It's a well built, high quality audio device for those who are looking for one of the best turntables on the market. The price isn't budget shattering, but certainly suggests this is for a more experienced listener as well.



Unboxing The Fluance RT85 Turntable
The theme of high quality features with few bells and whistles carries over to the unboxing portion of our review. With no built-speakers or pre-amp, you'll have to purchase your preferred external speakers or mixer.
Included with the turntable itself though is the DC 12V power cable, as well as an RCA output cable for attaching to your preferred external speaker system.


Fluance RT85 Features & Specs
The Fluance RT85 Reference is packing an impressive spec sheet for such a stripped down turntable. Solid wood cabinets and dampening feet prevent any interference from micro vibrations.
Speed can be controlled between 33 and 45 rpm thanks to the belt-driven, isolated motor. A high mass, acrylic platter further adds to the sturdy construction, all held within a clear dust cover.
An Ortofon 2M Blue cartridge which houses the needle, providing premium linearity, is also one of our favorites and made our list of the best turntable cartridges.
The back panel houses the RCA output, where you can add external speakers, as well as the power input. All that comes in a package that is less than 5 inches tall too!


RT85 Highlights:
Ortofon 2M Blue Cartridge
Solid wood cabinet
Dampening feet
High mass, acrylic platter
Dust Cover
Multi-speed controls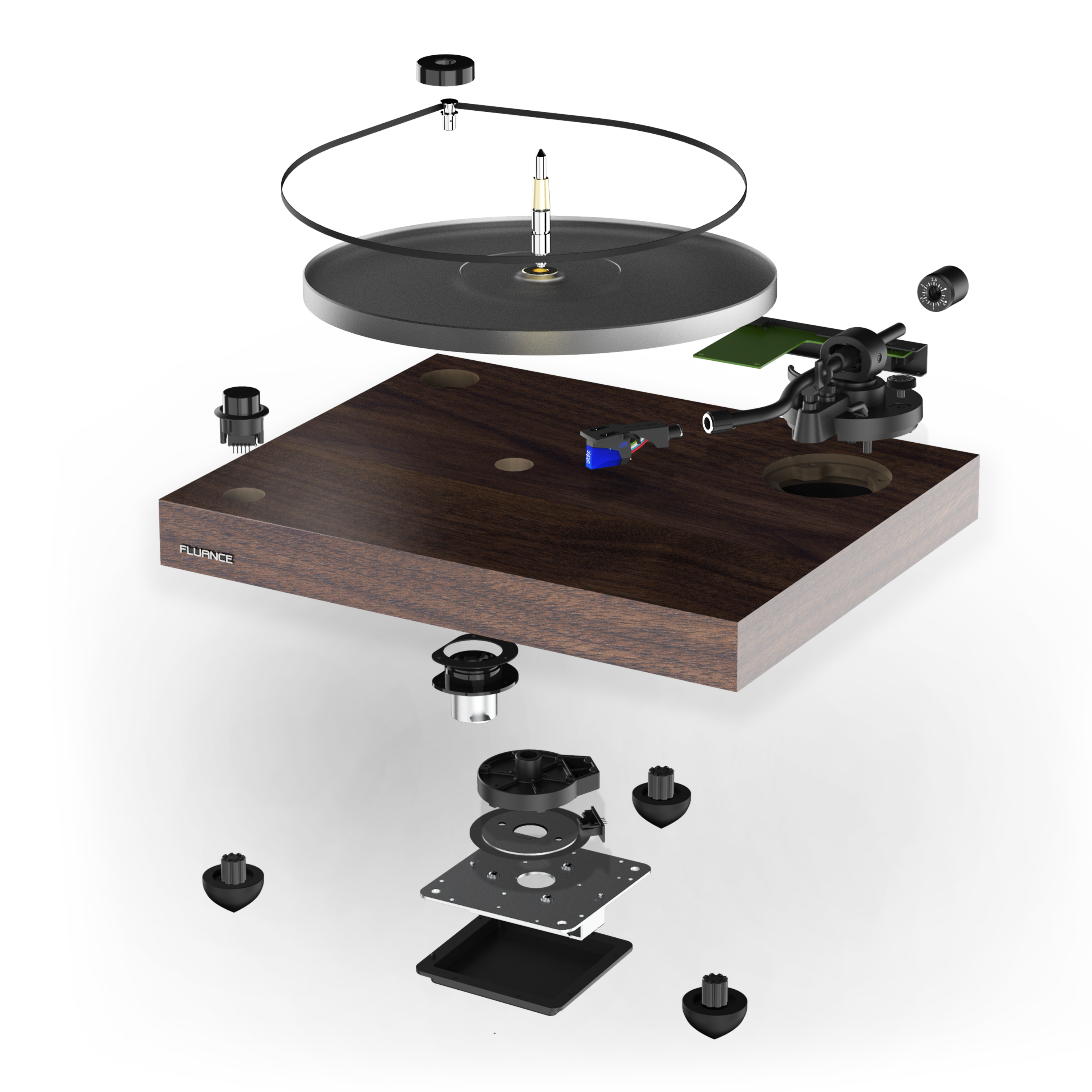 How To Get The Most From Your Fluance RT85
As we said before, this is a turntable that isn't hard to use or control. To get the most out of it though you will need your own external speakers or preamp, such as a mixer.
Generally, this Fluance RT85 Reference Turntable could be just one component of a larger audio entertainment center. To truly use this to its full extent, you should be ready to spend additional money on speakers.
Other than that, it's incredibly easy to drop your favorite record into Fluance RT85 and start listening!


Fluance RT85 Turntable Review – Key Points

What We Like
Superior sound quality
Several dampening features built-in
Sleek, low profile size
Solid wood and acrylic construction

What We Don't Like
Not the most affordable model
Needs external speakers and preamp





Try Checking Out These Alternatives:

Looking for something more affordable and with a built-in preamp? Check out the Fluance RT81, another solid wood turntable option.
Very similar to the RT85 Reference, you get a built-in dust cover, solid wood plinth, and a high performance cartridge. Known for its warm sound, the RT81 provides a more vintage voiced, and budget friendly option.

For something with a few more bells and whistles, check out Audio-Technica's AT-LP120XUSB turntable. Checking in at almost half the cost, you get great functionality thanks to built in features.
Convert your vinyl to MP3 using the included software or choose between 3 speed options for optimal control.

If simplicity and high quality sounds are your only concerns, you can still save a few bucks with the Pro-Ject Debut Carbon DC Turntable.
This precision belt-driven turntable has an even smaller, more low profile construction than the Fluance RT85. But you do sacrifice the speed controls and dust cover.


Final Thoughts On The Fluance RT85
With such high fidelity sound and strong construction, it is hard to find a fault in the Fluance RT85. While it certainly is more expensive than some, more versatile competitors, it truly is a superior turntable.
If your audio setup is just missing a turntable, and not an all-in-one system, this RT85 Reference is one of the best options out there. Better yet, the humble design and appearance should fit into almost any space, regardless of the decor or setting.
With top shelf construction meant to remove all extraneous noise and vibrations, the Fluance RT85 is fit to impress any audiophile.




Ease of Use

Build Quality

Sound Quality

Value Factor